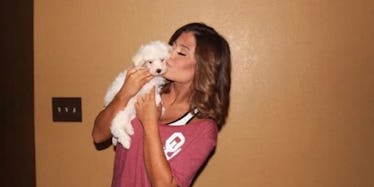 Teen's Mom Transforms Her Room Into A Gorgeous Dog Bedroom For Her Fur Baby
@MaddieMini4/Twitter
When you go off to college, your parents probably joke that they may turn your old childhood bedroom into a gym, a second closet, or an extra storage space for them. Your sister may even kid that she's going to take over your home bedroom as her own. You never actually think they'll do anything with it. That's what Maddie thought when she was going off to school this fall, but Maddie's mom did transform her childhood bedroom... for her beloved, oh-so-adorable pooch, Nina. Yes, you heard that right: This teen's mom transformed her room into a dog bedroom when she left for college.
When Maddie got Nina, her sweet and fluffy baby puppy, her mother, Rosie, told her that it was Maddie's complete responsibility to take care of the dog. Maddie accepted the responsibility and cared for Nina, but it wasn't long before her mom, Rosie, fell in love with her, too. I mean, we can't really blame her. We're falling in love as well. She's downright the cutest puppy around town. According to Buzzfeed, Maddie reveals her mother spends "way too much time" with Nina, and pampers her endlessly... as she rightfully should. Maddie said, "Nina is literally her third child."
Maddie is a freshman at Texas A&M University, and when she moved out for college, her mom let the jokes fly that she was going to turn her old bedroom into Nina's room. Just like all of us, Maddie thought her mom was kidding around. She never expected her to actually do it… until she got some pretty legit text messages.
Maddie's old bedroom is now Nina's bedroom. Elite Daily spoke to Maddie exclusively. Her initial reaction to the text message was that she was "so surprised." Maddie was shocked her mom actually went through with it and did it. She tells us, "I thought she was just joking when she talked to me about it before leaving for college."
But, Maddie's mom really followed through on her end. Nina's bedroom has new, plush bedding and a comfy chair that Maddie never had. Maddie got totally real with us and reveals she was jealous of the new comforter and cozy chair. She also said the cute decorations in her room were from her graduation party. It's a beautiful room fit for a queen, which we can all agree Nina totally is one. Even Maddie says, "Nina's definitely gonna be living a luxurious lifestyle." You certainly got that right. It's safe to say we're all seriously jealous on this end. This puppy's new room is gorgeous, and probably a lot nicer than our own adult rooms.
We reported last month that two ladies in college totally transformed their dorm room into something exquisite, and this doggy's bedroom is seriously on the same page. It's giving us some motivation to think about how to transform our own rooms. Now that this room is Nina's room, we asked Maddie if she has a place to stay when she comes home. According to her mother, the room is officially Nina's and Maddie says, "I have to ask Nina if I'm even allowed in whenever I come home from breaks."
Wow, super harsh. Though, I'm sure Nina will be more than accommodating and allow Maddie to crash with her. I mean, she was initially her dog, so it only seems fair. Maddie shared the scenario, including the text message and pictures of her old room (aka, Nina's new room) on Twitter. Maddie captioned the post, "I'm in college for not even a month & my mom rearranges my entire room just for my dog."
The tweet blew up, and got a lot of people talking about Nina. Some people thought the makeover was only right, and exactly what Nina deserves. As much as we feel for Maddie losing her room, we totally get it. Even though it's a shock to lose your bedroom to your own dog, Maddie isn't too upset. She said she's excited about Nina's new fame on Twitter, and said, "Even though she did steal my room I'll always love Nina with all my heart." And honestly, we feel the same.