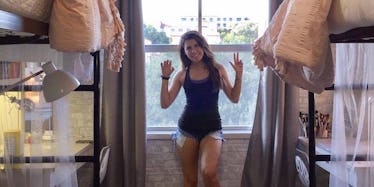 This Insanely Beautiful Dorm Room Transformation Is Way Nicer Than Your Room
You'll never look at your own room the same way again after seeing the stunning transformation two college freshmen did to their dorm room. Skylar Bantz and Adeline Vela moved into Texas State University and created the ultimate college dorm you'll be super jealous of. What used to be a 16-by-16 foot totally average college space has been decked all the way out. Talk about extreme Pinterest-ing; this insane dorm room transformation gets awarded all of the gold stars. The room features removable faux brick wallpaper (that's also flame-retardant), a fluffy rug, wallpapered desks, bedspreads, and lavish pillows. There's certainly no shame if your jaw has dropped, because mine still hasn't left the floor.
Sheila Ybarra, who is Skylar Bantz's mom and the coordinator of this amazing bedroom, told KSAT,
We decided the color theme and we would all communicate in a group text message and take pictures of items that we had seen. (Bantz's) roommate's mother was in charge of picking up the chairs, rug, bedspreads, customizing a pillow headboard and making the sheer custom curtains as well as the sheer drapes underneath the bunk beds. Skylar and I where in charge of picking out all of the furniture, the wallpaper design, accent pillows and other living items such as refrigerator, mini vacuum, television and coffee machine.
The Instagram-worthy project we're all swooning over took 10 hours and cost around $2,000, according to KSAT. Ybarra posted the dorm room makeover to her Facebook page, Makeup by Sheila, where it went, well, seriously viral. With a great move-in team of family and friends in place, they hauled the dorm room decor up the stairs of "Scary" Sterry Hall (aka, their dorm's nickname).
The old building provided its own set of challenges, and believe it or not, the girls and their families never even saw the dorm room IRL before move-in day. Using the dimensions, they carefully planned and hauled their decor from stores like Bed Bath & Beyond, Target, and IKEA. With bed frames they rented from a university-approved outside seller, the team lofted the girls' beds for more space, and were able to fit dressers, a coffee station, TV, and mini-fridge into the layout of the room.
The two new roommates met on an online chat group, and from there, decided to be roommates. The girls and their mothers spent the summer chatting it up via group text to decide on a color scheme and prevent over-matching. On the big day, it took a rented SUV and dedicated trips up and down the stairs to get the dorm in top shape. All of the hard work for this beautiful dorm room definitely paid off.
After the post went viral, alumni, strangers, and admirers alike left comments of appreciation on Ybarra's Facebook page. One person even pitched in their memories of the dorm, saying,
I used to live in starry hall and this goes to show what creativity and a little TLC can do to a room. I LOVE IT!!
Another person wrote,
OK I stayed in these dorms back in 2007 for a week for cheer camp and they haven't changed. That's scary..you totally made them cool.
Skylar Bantz also detailed all of her dorm purchases on her YouTube channel. So, what do you think? I know I would have, hands-down, loved this dorm room as a freshman.