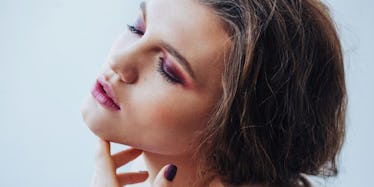 Swap Out Your Makeup With These 6 Products For A Smear-Proof Summer
Liliya Rodnikova
Summer is here, which usually means any makeup you put on your face will be on your sleeve by the time you walk out the door and get to your destination.
While we may not be able to count on our makeup staying put, summer doesn't have to be a total beauty disaster. You may feel like you have no options but to throw out your makeup and just give up for three months. I mean you can always pass off all that sweat as a "dewy glow" you totally created on purpose, right?
But if walking around bare-faced is your actual nightmare, then it isn't an option. You need some reliable options you can swap your winter makeup out for and count on through even the hottest days of summer.
And always remember to just drink more water than you even believe you're capable of so your skin retains its moisture.
So, here are my favorite options to swap my makeup out for during summertime.
Swap Brow Pencil For Gel Options
Sephora Collection Brow Gel, $12, Sephora
Brow pencil needs to be reliable. There's nothing more obnoxious than walking around with one eyebrow on while the others been rubbed off, giving you a permanently curious expression. It's sloppy, and it invites unwanted conversation from strangers.
Brow gel is a better option during the summer months. Te fact that it's in liquid form means it actually penetrates the skin, making it more waterproof.
If you can't let go of your brow pencil though, Sephora has a clear brow gel you can use in conjunction with your brow pencil that can be used to sculpt and set your brow pencil in place, or alone to sculpt and set your natural brows in place.
Swap out BB Cream for a BB Cream with an SPF of 30+
3LAB Perfect BB SPF 40, $100, Amazon
OK, so BB cream is one of those beauty basics that last year round, but in the summer, you need to up the SPF to protect your skin from those dangerous UV rays.
Since we typically spend longer hours directly under the sun during the summer, we need to use an SPF (Sun Protective Factor) that lasts a little longer. Swapping out your 15 SPF BB cream for one with an SPF of 30 or higher is a good idea.
3LAB's Perfect BB SPF 40 is a sheer tinted moisturizer that brightens, moisturizes and protects the skin while also making it look more flawless.
Infused with 3LAB's signature Bio- Engineered Renewal Complex and Apple Stem Cell Technology, it's safe for all skin types and comes in three separate shades, but most importantly, boasts an SPF of 40, allowing you more time before reapplying.
Swap out matte lipsticks for a creamy lip color with liner.
Sephora Collection Contour & Color Liner Lipstick Duo, $16, Sephora
There is nothing worse than a smeared matte lipstick. It makes you look like prom-night-gone-wrong, and you won't be able to get it off for days, no matter how much you sweat.
Since matte lipsticks never really go away but will smear and spread out all over your face like a rash, and since summer is the sweatiest time of the year, you're gonna need to find a creamy matte option, with a liner to contain the color so it doesn't bleed.
Sephora has a double-sided lipstick and liner duo called Contour & Color Liner and Lipstick Duo that combines complementary colors, designed to enhance lips and to stay put when you need it to, but is easy to remove.
While I wish it had an SPF, it goes on like chapstick and absorbs easily, which makes it perfect for a day at the beach or for those hot summer commutes.
Swap out your color mascara for a waterproof, clear one.
Anastasia Beverly Hills Lash Genius Waterproof Topcoat Mascara, $21, Birchbox
Not only is color mascara not great for days when you can't stop sweating, it's even worse for crying in public, which is like my personal favorite thing to do.
If you have naturally thick eyelashes (lucky) then making the switch to a clear mascara may not be so scary, but if you have thin eyelashes that have basically been plucked all the way out (from messing with your eye makeup while crying in public), I'd strongly recommend using a clear mascara or topcoat that won't wash out.
Anastasia Beverley Hills makes this waterproof topcoat to makes any mascara water resistant so you can use it with your mascara or alone for a glossy finish to your natural assets.
Swap out eyeliner pencil for a waterproof liquid liner
Sephora Collection Colorful Waterproof Eyeliner 24HR Wear, $12, Sephora
Regardless of the season, one of the most problematic beauty products is eyeliner. Because the eyes are always moistening themselves, it's just so easy for it to come off.
The people need a better option than eyeliner pencil. I don't even know why it's still being made. While I would rather switch to a permanent cat-eye tattoo, a waterproof liquid liner is probably the next best thing.
Sephora has a 24-hour colorful waterproof liquid liner that comes in six shades, and when you use it with a nude lower liner it gives the eyes a doe-eyed look -- even when using a clear mascara.
Use a face wash that exfoliates and minimizes pores.
Triple Effect Peel, $79, Instytutum
Remember to wash your face thoroughly every night, removing your makeup first and cleansing with an exfoliant, scrubbing away any dead skin for that fresh summery glow.
My favorite brand of all time for this is Instytutum's Triple Effect Peel.
With the amount of sweating you do in the summer time, your pores are open to all kinds of toxins, not to mention the amount of damage the sun can do.
I've been using the peel and it's worked to exfoliate and improve the texture and tone of my skin, correcting any sun damage and reducing the size of my pores, which makes my skin less susceptible to environmental stressors like sun and pollution.
Trigger warning: It's $79.00, but in this case, you're actually getting what you pay for.
You can actually look great throughout the summer months, it just takes a little change and flexibility.
But you can do it. I believe in you.