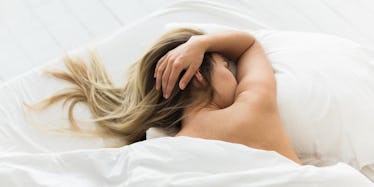 What Your Porn Search History Looks Like, Based On Your Zodiac Sign
Alexey Kuzma
The internet has a lot out there to discover when it comes to porn, and though not everything is for everyone, there's definitely something out there for every zodiac sign.
Depending on the characteristics of your sign, you might need something a little dirtier, a little cleaner, a little more prudish than the next guy.
We're not here to judge you. We've all got our kinks. Here's what yours might be, based on your zodiac sign.
Aries- Hentai
If you don't know what Hentai is, don't google it. It's fully animated porn that knows no limits when it comes to kink-factor. Since it's animated, viewers can even catch a glimpse of what's going on INSIDE the body during sex.
Warning: This porn can get really aggressive, and there's a lot of dom/sub interaction. Leave it to Aries to want their sex with a side of fighting.
Taurus- Massage Porn
Taurus loves an affectionate touch, and they love to feel as relaxed as possible. They might be the only sign that could turn on a massage video and reach climax before penetration. "Just the shoulders..."
Gemini- Threesome
Geminis don't like to commit to one thing; they want options -- and they want more than one. Threesome porn will do it for them, because they can constantly switch back and forth between partners. Otherwise, they're just switching between porn videos and that can take hours.
Cancer- Stepmom
Cancers have a lot of mom issues OK? I've said it before, I'll say it again: They need a lot of love and attention and nurturing in bed, and same goes for their fantasy life.
The idea of getting into bed with someone who will cuddle them and cook them dinner after is hot to them, and for the women, having a man they can coddle to death is sexy AF.
Leo- Soft Core
Leos have a rich, creative imagination. They don't need a lot of close-up shots of someone getting shot with a nerf gun full of jizz or whatever else is out there. They just need a suggestive outline. Their imaginations can do the heavy lifting, thank you very much.
Virgo- Anal
A world in which the act of anal sex isn't followed up by the cleanup of... well, anal "shrapnel" is the world Virgos want to live in.
It's a world where we all have assholes that are pristine and spotless. Guess what, Virgo? Porn is the only world where this reality exists. Lucky for you, at least it exists at all. Be grateful you were born in this decade.
Libra- Lesbian
Libras are about justice and balance, and since porn is designed for men's pleasure. (Let's face it, the men in porn are f*cking hideous compared to the women they're f*cking.)
Libras like to even out the scales by devoting their tastes entirely to the women.
Scorpio- Lesbian Seducing Straight
Scorpio is the sign of transformation, death, and rebirth, and this is why they're often thought of as the most sexual sign.
It's not that they're all a bunch of nymphomaniacs, but their attitude toward sex is that it should be a transformative experience, so watching someone seduce and transform another is a huge turn-on for them.
Sagittarius- Gangbang
Sagittarius treats sex like it's an olympic sport. They want it to be an aerobic workout, and a good ol' gang bang porn is the closest thing to a naked obstacle course you'll find online.
Not to mention, there's a lot of gang bang porn featuring people from different cultures and backgrounds and speaking different languages, which appeals to that Sagittarius love of international travel.
Capricorn- Stepdad
Capricorns are opposite Cancer in the zodiac, so where Cancers might have a mom fetish, Capricorns have a dad one.
Stepdad porn is a likely popular search term for Capricorns, who have a definite kinky side that opposes their otherwise traditional values.
Aquarius- Virtual Reality
Aquarians are ahead of their time. They're the space age thinkers of the zodiac, and they have a very experimental attitude toward sex.
They won't be satisfied by the regular old in-and-out; they need an interactive experience that allows them to view sex feeling like they are both participating and detached.
Pisces- Cartoon
Pisces need something to stimulate their imagination, something they won't get too empathetic about. They tend to absorb the feelings of those they're having sex with, so if they feel any kind of way about the porn they're watching, or start thinking too much about how everyone involved is feeling, it could really f*ck up the experience.
Best to go with something animated.