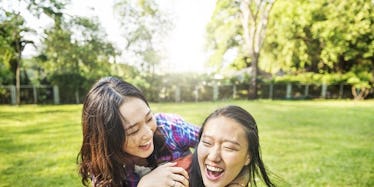 9 Adorable Pictures That Perfectly Describe Your Big, Little Friendship
Rawpixel.com/Shuttershock
If you were ever in a sorority, you know that the sisterhood bond is timeless. Ultimately, you accepted a group of amazing women in your life that will be there for you through thick and thin. The big and little bond is a special one, though. That's your legit partner in crime right there.
Being a big or a little leaves a special memory in your heart. It can be a bit hard to describe the friendship that transpires from the duo, but it's strong and resilient as hell. At the end of the day, your ability to be a loyal friend is tested, and you reap the benefits of that effort being reciprocated. Whether you're a big, a little, or both, these photos describe your sorority friendship oh-so perfectly.
1. The Everlasting Friendship Deserves To Be Written On The Walls
Big/Little sorority crafts #greek - https://t.co/bdr0UhanL9pic.twitter.com/N6JtWXuNOO — We Know How to Do It (@how_do_it_com) July 21, 2017
Who doesn't like something inspiring AF plastered on their wall? We all need a little encouragement now and then. A heartfelt quote about you and your little or big is the perfect touch to help you leave your house with some confidence.
2. Seriously, You Can Show Off Your Love Just About Anywhere
In high tide or in low tide Ill be by your side alpha Xi delta sorority craft big little reveal canvas - https://t.co/OSbxx6MyHzpic.twitter.com/iExWWO2fDK — We Know How to Do It (@how_do_it_com) July 8, 2017
You can never get enough trinkets that signify a dope friendship. And while it may seem indescribable at times, you conjure up the right words that describe your devotion to each other. I'm not crying; you're crying.
3. The Friendship Is Such A Gift, It Deserves A Beautiful Bow
Why I Don't Like The Big-Little Tradition - #Big#Little#Sorority#Srat#Tradition#Collegehttps://t.co/nzb4LGxTu9pic.twitter.com/nT1nkkLHxd — SC Speaks (@SC__Speaks) September 28, 2016
Matching is just what you do with someone who has delivered a seemingly perfect friendship to you. Also, what's wrong with sharing the same wardrobe as your bestie? It shows unity, which you two have.
4. Your Bond Is So Dope, You Need The Greats To Spell It Out
#HANDMADE Biggie Smalls T shirts / Sorority big little t shirts by lalaurel - Etsy #vintagehttps://t.co/pKpwrfcP8wpic.twitter.com/4DDzIqHSPG — black angel (@blackangel1946) October 13, 2016
It's time to get creative. Oftentimes, you need a little bit of inspiration. And in the end, everyone should get the idea of what you're trying to say. RIP Biggie.
5. It's Seriously A Head-To-Toe Experience
WELCOME NEW Rush Crush Sponsor @sockprints! Spoil your big/little with CUTE sorority socks! https://t.co/g3d24QF45spic.twitter.com/t5ecV5TrIj — sorority sugar (@sororitysugar) August 8, 2016
Cozy socks and reppin' my big or little? I guess dreams really do come true. But seriously, the list of ways to show some love for your unbreakable friendship is endless.
6. There Are A Million Ways To Wear Your Proud Title
#Big#Little#Necklaces#Sorority Please RT: https://t.co/CXOavgahyCpic.twitter.com/uYWtsM8eMn — Home Decor House Des (@homedecorhouse) June 7, 2016
Can someone say "bling?" You don't even need anything too flashy, because your big or little is already a gem. The necklace is just an added bonus.
7. There's Always Plenty To Cheers To
Save 20% #LiquidCourageFlasks Call My Big - Sorority Flask Sister Big Little Greek Week Bridesmaid Gifts Stainless … pic.twitter.com/NbVLiMx6B1 — Michele Holmes (@threateledab191) May 6, 2016
If you both are 21 and up, any drink between the two of you is one for celebrating. No need to ever crave for a champagne partner ever again. Besides, ladies with class use a flask anyways, right?
8. Gratitude Doesn't Even Begin To Describe It
11x14 Big Little Sorority Canvas In the middle of ... - #weightloss#diet#fitness#healthhttps://t.co/OeID6mlH9Ppic.twitter.com/lVcRfSJRvm — Advantage Fitness (@ScientificFitne) January 16, 2016
No matter what turbulence each of your lives have, you will always have each other. What more could you ask for? Nothing, because she always has you covered.
9. You Two Are A Seemingly Perfect Match
Sorority big/little reveal vs. Fraternity big/little reveal pic.twitter.com/cGg9e0ppA6 — Parth Maheshwari (@PoshMahash) October 26, 2015
Your big or little is your perfect match. No matter how different the two of you may be, the love for your friendship will always be your biggest commonality. Partners in crime, remember?
All in all, friendship is the reinforcing factor in sisterhood. Having a big and little bond is forever. You wouldn't have it any other way.