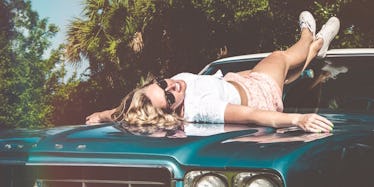 8 Ways To Have A Lit Fourth Of July When You Barely Have The Funds To Travel
Aral Tasher/Unsplash
Let's be realistic, not everyone can afford the dope vacation they envision in their minds or depicted in music videos. That's just life.
Don't get completely discouraged, though, because there are ways around that not-so-flattering checking account this Fourth of July.
Besides, with your incredible imagination, it's time to get innovative so you're not sitting at home pouting about a temporary situation that will pass. You don't always need a pile of money for validity (but it couldn't hurt, right?)
If you find yourself broke AF this holiday, consider a few of these ways to still have a festive Fourth of July.
1. Find Others Sharing Your Dilemma
Remember that saying, "birds of a feather flock together?" Well, flap those wings and fly to some comparable company.
Don't throw a pity party, but you're more likely to create a melting pot of fun ideas to embrace.
Hey, you need some fun and excitement, right? So, even if you were invited by another person who was barely invited, take your chances.
What have you got to lose? Not money, so you're in good shape.
3. Get To A Beach
The beach is free, and there are plenty of people to meet there. Find your post, keep an ear out, put your feet in the water, and see what happens.
Discounted drinks are heaven-sent when you're trying to ball on a budget.
Pick out a fun spot, round up your girlfriends, and cheers.
5. Thrift Store Shopping
Everyone wants a new outfit for the holiday. Don't let your pockets discourage you from glamming up during your budgeted holiday.
Thrift shops are great, because you never know what unique pieces you will find.
6. Consider Alternative, Cheaper Transportation
Who's opposed to the bus? You shouldn't be.
The purpose is to get from point A to point B. Getting to the next city over for a little adventure couldn't get any easier.
7. Look For A Free Concert
Music heals the soul... and those thoughts of being financially held back from the vacation you envisioned before.
Isn't that the prestige of mostly everyone's plans anyways on Fourth of July? Get out, watch the sky light up, and you won't feel excluded.
The point of any holiday is not how much you spend on experiencing them, but actually experiencing them and making rich memories.