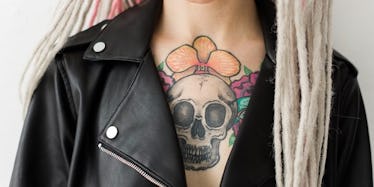 9 Halloween Tattoos Perfect For Getting Inked With Your Girl Crew
Alexey Kuzma/Stocksy
We all know Halloween is when the witches, ghosts, and dark angels of the night come out to play for an epic celebration of creeps and thrills. If you're anything like me, you wish it was Halloween all year round. Unfortunately, that's not the case, so it only comes around on the highly-anticipated Oct. 31. However, that doesn't need to stop you and your girl crew from showing off your favorite holiday with one of these cool Halloween tattoo ideas.
When you look down at your Halloween tattoo, it will truly feel like you're celebrating your favorite holiday every day of the year. So, what should you get? For everyone who's into all things scary, there are so many monsters and spooky characters you can ink on your skin. On a less-spooky note, you could also get tatted up with your favorite friendly creature, candy, or Halloween movie. The options are overwhelming. To help you out with all of the ideas swirling around in your head, here are nine Halloween tattoo ideas for getting inked with your squad. These tattoos will never feel overplayed. It'll be like you're a witch finally getting your wish, and casting a spell to make it Halloween every single day. So, by the pricking of *your skin* "something wicked this way comes."
1. For Anyone Who Lives By The "Stay Spooky" Motto
Getting the words "stay spooky" tattooed on your wrist will remind you ladies that you can be spook-tacular even after October comes to a close. This design has everything about Halloween you would ever need. A full moon, a ghost, and a jack-o-lantern complete this picturesque scene.
2. Keep Your Shoulder Looking Fierce With A Spider Web
Where there's a web, a spider must be lurking nearby. That thought gives me all the chills, but that's exactly what you might want in your Halloween tattoo. I love the placement of this design right on the shoulder, and the nice thing about spider webs is that they can come in some really cool, unique designs.
3. This Small Tat From Beetlejuice
This relatively small, but detailed tattoo is inspired by one of your favorite Halloween flicks. If your crew has a specific Halloween movie you're obsessed with, ink it. This tat of Barbara and Adam from Beetlejuice is too cute for words, and will totally make you want to "Jump In The Line."
4. A Sweet Little Boo
I can't even with this adorable ghost. I mean come on, his tiny little vampire fangs are just so cute that I probably wouldn't even run away and just let him bite me. This tattoo is tiny enough that you could probably get it anywhere you're looking to get inked.
5. I'd Let This Black Cat Cross My Path
Black cats tend to mean bad luck, but we'd be lucky to have this cute cat follow us around all the time. The golden eyes make this tattoo stand out from the rest. And when it's not Halloween, this design is perfect for any cat lovers who just want to show off their irreplaceable love for their fuzzy baby.
6. This Nightmare Before Christmas Design
For all the Tim Burton fans out there, getting a Nightmare Before Christmas tattoo is a must. It's the one movie that's iconic for two major holidays, so this could also be considered a Christmas tattoo. I'm obsessed with the bright colors and shading that really make Jack Skellington really stand out.
7. It's Just A Bunch Of Hocus Pocus With This Spell Book
Hocus Pocus is literally everyone's go-to Halloween movie. Winifred Sanderson can't live without her spell book, and I totally get it. You can carry around your very own copy of the book with this tattoo.
8. Prick Your Skin With This Disney Villain Ink
Sure, the princesses are great, but some find the villains to be more fun. Show off your love for all things Disney by getting Maleficent tattooed on your skin. Those colors are simply striking.
9. This Candy Corn Is So Cute, You Could Eat It
Another great idea for a Halloween tattoo is getting your favorite candy, like this candy corn. It's bright and vibrant. Plus, those beady little eyes make me want to melt.
Check out the entire Gen Why series and other videos on Facebook and the Bustle app across Apple TV, Roku, and Amazon Fire TV.