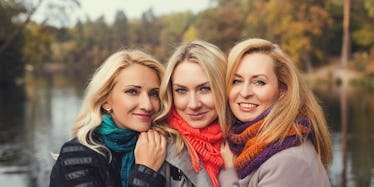 14 Cute Fall Quotes For Your Sweater Weather Pictures With Your Girls
Ikoimages/Shutterstock
It's almost time to start rocking those cute oversized sweaters with your girls and posing among the vibrantly colored leaves. Don't act like you're not excited about those fall outfits making their debut on your Instagram or Facebook. And while a picture may be worth a thousand words, it's almost a guarantee you'll want to have a running list of cute fall quotes for your Instagram photos. An awesome caption ties the whole thing together.
Your girl squad is so amazing it can almost seem impossible to find a collection of words that describes them, yourself, and the season unfolding around you. Luckily, you'll have the ultimate prop of fall for your sweater weather pictures with your girls. We all like to slay our own different style in any season, so you won't want something that just applies to a single one of you. No pressure, but just like your outfits, you're going to need some options to sift through before you make any final decisions.
From the average Joe or literary predecessors, quotes are a perfect way to caption pictures on our social media platforms. I'm not sure when the caption became so important, but we are definitely here for it. The caption can make or break the entire vibe of your picture, so choose wisely. If you're all geared up with your sweaters and your girl squad, explore some of these options to seal the deal.
1. "Love the trees until their leaves fall off, then encourage them to try again next year." -- Chad Sugg
2. "Autumn carries more gold in its pocket than all the other seasons." -- Jim Bishop
3. "Autumn is a second spring when every leaf is a flower." -- Albert Camus
4. "Autumn... the year's last, loveliest smile." -- John Howard Bryant
5. "Winter is an etching, spring a watercolor, summer an oil painting and autumn a mosaic of them all." -- Stanley Horowitz
6. "How beautifully leaves grow old. How full of light and color are their last days." -- John Burroughs
7. "The leaves are all falling, and they're falling like they're falling in love with the ground." -- Andrea Gibson
8. "Everyone must take time to sit and watch the leaves turn." -- Elizabeth Lawrence
9. "You can't hide your true colors as you approach the autumn of your life." -- Unknown
10. "There is something incredibly nostalgic and significant about the annual cascade of autumn leaves." -- Joe L. Wheeler
11. "October is a symphony of permanence and change." -- Bonaro W. Overstreet
12. "Life starts all over again when it gets crisp in the fall." -- F. Scott Fitzgerald
13. "And all at once, summer collapsed into fall." -- Oscar Wilde
14. "Keep your face always toward the sunshine -- and shadows will fall behind you." -- Walt Whitman