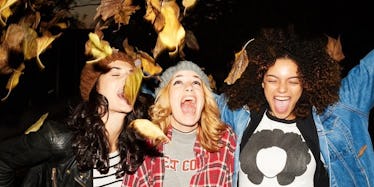 11 Totally Basic Fall Pictures You'll Take With Your Girl Squad This Season
Guille Faingold/Stocksy
Fall is here, so it's time to break out your cozy sweaters and drink some Pumpkin Spice Lattes with your girl squad. It's totally OK to be basic. Trust me, we all get it. There's just something about the season that makes us all want to go outside, breath in the crisp air, and take basic fall photos with our squad to share on Instagram.
There's no shame in wanting to round up your girls for a fun fall foliage photo session. Try saying that five times fast. Fall is probably the prettiest season of the year. The trees turn into remarkable colors, the cute sweaters make such a great fashion statement, and festive decorations grace every corner of town.
When you and your squad want to show off how in the mood you are for the season, here are the 11 basic fall pics you seriously need to capture. It's like a fall photo bucket list to check off. You and your girls can make it an autumn goal to get every one of these pictures before the season ends. So, grab your crew and your cameras, and throw on your best autumn outfit. It's time to celebrate this spectacular season.
1. A sweet picture of you and your squad picking out the perfect pumpkins to carve is a must.
2. Is it really fall if you don't snap a picture with your PSL in hand? Nope.
3. This shot of you and your mains jumping in the apple orchard, because you're excited it's finally fall.
4. A picture of everyone wearing matching fall colors is set to slay the autumn game.
5. An action shot of your squad apple picking is too cute for words.
6. If your friends are a hilarious bunch, this candid shot goofing off on a farm was meant for you.
7. Take advantage of the red, orange, and yellow fall foliage by playing in the leaves.
8. Showing off your school spirit at a football game needs to make it on your Instagram feed.
9. Take your #girlsquad and turn it into a fall #plaidsquad.
10. What's better than rocking matching cozy sweaters like Taylor Swift and her crew?
11. A "plandid" photo of your squad among the pumpkins will definitely rack up those likes.