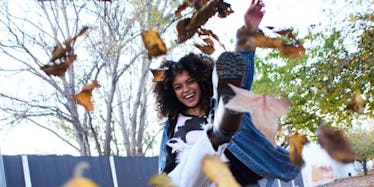 15 Hilarious Things Every Seasonally Basic Girl Knows To Be True
Raise your hand if you're not completely basic, but have a passionate AF love for fall. Guess what? We're what I like to call "seasonally basic." Most of the year, we're super chill, but once September comes around, we immediately start getting our autumn Pinterest boards ready to take on all of the hype that comes with sweater weather. Seasonally basic girls understand fall is the best season, and don't really care who knows it.
Being seasonally basic started off with having your typical Pumpkin Spice Latte once a month, and turned into not being able to slay a crisp fall day without one in hand. It just comes with the territory, and your desire for all-things-fall has developed into the deepest kind of love. There's really no turning back. You're keenly aware of just how basic you're being, and you really wouldn't have it any other way.
The good thing is, being seasonally basic doesn't mean we don't see how hilarious we're being sometimes. We know just how silly it is to fall into the marketing traps and get lost under the downright wonderful spell of the changing leaves. Every seasonally basic girl has done these 15 things, and is damn proud of them.
1. You plan all of your trips to the apple orchard religiously. Your flannel outfits are picked out far in advance so you can get the ultimate fall shot for Instagram. Pics or it didn't happen, right?
2. You buy new sweaters for September every August, even though you know damn well it's still going to be too hot to wear them. Those back to school deals are just too tempting to pass up.
3. Having a marathon of the Halloweentown movies is one of your favorite fall traditions. Let's be honest: You totally fangirl when they come on. A Friday night with some hot chocolate, popcorn, and a fall flick sounds like a great night to you.
4. You promise yourself each time you grab a PSL it will be your last, but you secretly know you'll be back tomorrow... in the morning and the afternoon.
5. You spend an embarrassingly long amount of time on Pinterest looking for pumpkin spice recipes. Your kitchen smells pretty freaking amazing all season long, though.
6. Your camera roll and social media posts consist of a bunch of pictures of the colorful trees, even though you've seen it happen your entire life.
7. You've been coordinating your Halloween outfit for months.
8. Your closet resembles that of a lumberjack's -- filled with lots and lots of plaid. What's autumn without rocking a flannel on the reg?
9. The Bath & Body Works employees know you by name because you're always in there buying new fall candles. Oh, and can't forget the pumpkin latte body cream.
10. You're contemplating dying your hair darker to match the season. Chocolate brown locks, leggo. You're all over those fall hair trends like it's your job.
11. Your friends all know that going to a pumpkin patch with you really means doing a photoshoot until you have the perfect shot. And every trip to the patch is followed by pumpkin carving, obviously.
12. You use the season as an excuse to drink hard cider, but you know you'll really keep drinking it all year long.
13. Your scarf collection starts to take over your entire house. You can never have too many to pair with your leather jacket, right?
14. Your daily routine includes putting on some kind of fall-scented body lotion. You always keep a travel size lotion in your purse to reapply, too.
15. Your boot collection may be getting a little out of hand. Leather booties are seriously life itself.
So, it's true, being seasonally basic rocks. So ignore the haters, ladies. You do you, and own that fall weather.