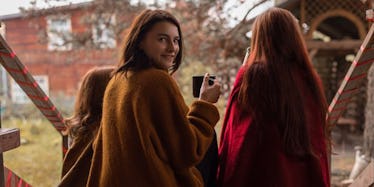 21 Best Instagram Captions For Your Apple Picking Pictures With The Girls
Fall is next month, people, so now is the perfect time to start getting your autumn activities in line. We all know fall wouldn't be complete without apple picking, so it's time to start planning out the best apple orchards to pick from, and hit up Pinterest for super cute poses to replicate with your mains. To make it easy, I've already put together some perfect Instagram captions for apple picking pictures.
Fall is the perfect season for impromptu photo shoots. The wind is blowing, the leaves are changing, and there's an endless array of seasonally appropriate props. So, what are you waiting for? These 21 captions are perfect for your apple picking pictures with the girls this fall.
1. "It's been a  blur of fun." -- Lily Pulitzer
2. "No one will ever be as entertained by us as us." -- Unknown
3. "I can't really see another squad tryna cross us." -- Drake
4. "Find your tribe. Love them hard." -- Unknown
5. "I only roll with goddesses." -- Unknown
6. "Not all sisters are born to us, life saves some for along the way." -- Unknown
7. "We will be the old ladies causing trouble in the nursing homes." -- Unknown
8. "Surround yourself with people who get you." -- Unknown
9. "Badass babes club." -- Unknown
10. "Our tans are fading, but the memories will last forever." -- Unknown
11. "Best friends: they know how crazy you are and still choose to be seen with you in public." -- Unknown
12. "We've been friends for so long I can't seem to remember which one of us is the bad influence." -- Unknown
13. "Boys are whatever. Friends are forever." -- Unknown
14. "When worst comes to worst, squad comes first." -- Unknown
15. "Life was meant for good friends and great adventures." -- Unknown
16. "I used to be normal, until I met these losers who became my best friends." -- Unknown
17. "Surround yourself with people who get it." -- Unknown
18. "If we were fruit, we'd be fine-apple." -- Unknown
19. "I pick you all." -- Unknown
20. "Stay close to people who feel like sunlight." -- Unknown
21. "We all need friends who understand what we're not saying." -- Unknown