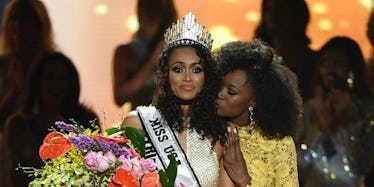 Why Black Women Going Natural Is As Political As It Is Beautiful
Getty Images
Former Miss USA Deshauna Barber shocked the world when she graced the stage to crown Kára McCullough, the 2017 winner of the pageant.
The moment was historical since both winners hail from Washington D.C., are African-American, and had their big, curly natural hair on full display.
Fans couldn't stop fawning over all of the natural curly hair on the winner's stage.
Deshauna Barber later opened up about her experience with racism and showing her hair to the world.
She told Refinery 29,
Competing in Miss Universe and dealing with the fans of competitors in other countries got tough. I had no idea how much racism I would experience from an international standpoint. They'd send me monkey emojis, and say that my skin looked like a poop emoji and tag me in photos with apes... That's why it's so important for me to have confidence in myself and to push through. I could have let the words of these people really get to me. My mom always pushed me to wear my natural hair, and I would always would say no. I didn't think I would be crowned Miss USA if my hair was in its natural state. She'd still push me, because she thought they'd love it. And she was right.
Barber's discreet reveal says a lot about the politics of natural hair.
Debuting her natural hair on the Miss USA 2017 stage was the product of meticulous planning, according to Refinery 29. She didn't tell any of the producers and staff, nor did she show anyone until she actually stepped onto the stage.
Such careful discretion shows that being a black woman with natural hair is just as much about politics as it is aesthetics, whether we want it to be or not.
Kinky, curly, and coily hair should be so normalized that it doesn't require all of this effort when engaging with the public but it does.  From mainstream America to the black community which grapples with internalized racism itself — natural hair has stigmas attached to it from a variety of angles.
Despite this, the former Miss USA also encouraged Kára McCullough to wear her natural hair.
Barber shared,
People don't realize that I'm the one who told Kára she should wear her curls onstage... When she came to my Miss Universe sendoff party with her hair curly, I looked at my director and said, "I think she should wear her hair like that." Kára was hesitant at first. But after some convincing, it separated her from the group. People could relate to her being comfortable with her natural hair. I think there's something beautiful about that.
Barber turning an oppressive experience with racism and hesitancy to celebrate her own hair into a moment of liberation for herself and the next black woman (who also ends up freaking winning) is powerful.
Not being able to let your hair just be hair is exhausting. People with straight hair never have to think twice about how their strands impact other people or affect their opportunities in life.
This current struggle, however, is what will push us toward a future of natural hair being normalized. Barber's big hair reveal, coupled with McCullough's curly hair moment is an inspiration to more natural girls who feel like their hair isn't acceptable in certain arenas. It might even be a light bulb for people in power who have participated in oppressing black people (especially black women) for their hairstyles.
As more and more proud heads pop up in these spaces, society will hopefully see kinky hair not as a conversation-starter about its acceptance, but as another example of what makes black beautiful and worthy.