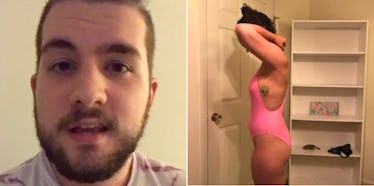 This Man's Viral Post Shows Why Men Play An Important Role In Feminism
Tyler Newman Facebook
Twenty-year-old Tori Jenkins had just arrived to a pool with her fiancé, Tyler Newman, and five of their friends when Jenkins says she was chastised for her pink, one-piece bathing suit.
After only a few minutes of being at the pool in their Knoxville, Tennessee apartment complex, she was told that the swimsuit was "inappropriate" and that she "needed to leave or cover up with a pair of shorts," by someone working at the pool, according to a Facebook post written by Newman.
When Jenkins went to talk with the leasing consultant on duty in the Smoky Crossing Apartments office, following the incident, Newman claims the leasing consultant made Jenkins pose for pictures, then instructed her to look in the mirror at her body, and then allegedly told Jenkins she would not want her around her own kids.
Elite Daily reached out for a comment from the leasing consultant, and was referred to a spokesperson for Smoky Crossing Apartments.
In the Facebook post, Newman claimed that Jenkins explained that her curvier body shape automatically causes her clothing to fit differently, but the leasing consultant, according to Newman's claims, was seemingly unconcerned.
Newman wrote that the leasing consultant allegedly said,
There are a lot of teenage boys in this complex, and you don't need to excite them.
A spokesperson from Smoky Crossing apartments shared the following statement with Elite Daily via email, refuting this claim.
The statement reads:
Smoky Crossing is a welcoming family community. Multiple residents within our community complained and expressed concerns regarding Ms. Jenkins' swimwear. In accordance with our pool policies, which are posted near the swimming area, one of our leasing consultants requested Ms. Jenkins wrap a towel around herself when she was walking around the pool. Ms. Jenkins was never asked to leave the pool. In addition, our leasing agent did not state that Ms. Jenkins' swimwear would 'excite teenage boys.' Ms. Jenkins and Mr. Newman are valued members of our community. However, we feel it is inappropriate to equate requesting Ms. Jenkins to cover up with sexual harassment or 'rape culture.' Smoky Crossing denounces harassment in all forms.
Jenkins shared her own Facebook post, thanking people online who supported her and shared encouraging messages.
She wrote,
It hasn't even been that long since it happened but I can tell you that I've felt really shitty about myself since. ...No man or woman has the right to make me feel uncomfortable in my own skin. No right to police me or any other human.
Unfortunately, this incident follows a long, sad line of women and girls all over the country who have been singled out for their attire, due to concern over how people (usually men and boys) will react to what they are wearing.
Newman also expressed his frustration with what his fiancée's experience says about body shaming and male privilege.
He wrote,
Today my fiancée was told that she is less important than how men feel around her. That Tori is less important than a man's urges to be sexual towards her. I think she's the most beautiful woman in the world, but I also respect her. I would never make her or any other woman feel less than what she's worth because of her outfit or her looks. This is how rape culture continues to grow. I've never seen my fiancée embarrassed to the point where she can't even look her best friends in the face. I've never seen her cry like she did in our apartment today. Never seen her want to be isolated like that. All because some ignorant assholes think they can police the size and shape of her body. I've never seen a woman so disrespected.
Newman shared a Facebook Live video where he discussed how incidents like this contribute to rape culture, which too often makes it a woman's responsibility to keep men from violating her, instead of teaching men to not be predators.
Jenkins' And Newman's Response Is What We Need To See More Of In The Feminism Fight
Too often, we see women fighting against discrimination they experience all alone, making the feminist movement feel like something women carry by themselves, while men either directly denounce it (looking at you, "meninists") or simply go silent.
Jenkins bravely standing up for herself against what she felt was a slut-shaming comment made by the leasing consultant and her fiancé calling out the apartment complex online are a perfect show of what the feminism movement is supposed to look like.
Feminism, by definition, is not just for women; it's a movement for the equality of the sexes that men should take part in as well.
Feminism Is Often Portrayed As An "Us Vs. Them" Struggle
Only 10 percent of men identified themselves as a strong feminists in a 2016 survey conducted by The Washington Post and the Kaiser Family Foundation. Only 23 percent identified as feminists at all. Fifty percent of the men in the survey specifically considered themselves "not a feminist."
These findings coincide with the "bro culture" we witness every day, the one signified by routine victim blaming, a "bros before hoes" mentality, blurred consent lines, rape jokes, and zero accountability.
We know of a few prominent self-identifying male feminists, like John Legend, Channing Tatum, and Will Smith, but part of the adoration we feel for these men is amplified by the fact that men standing up for women's rights is, unfortunately, not a societal norm.
These men serve as a breath of fresh air in a world where men often benefit from a privilege that disadvantages women, yet don't call it out.
Feminism needs men as much as it needs women. We need to see more men holding each other accountable, calling things out, and standing up for women when they are in oppressive situations.
Women and men standing together to fight against slut-shaming, victim-blaming, and other acts of misogyny is what will really transform our culture and make this world a more physically and emotionally safe place for women.