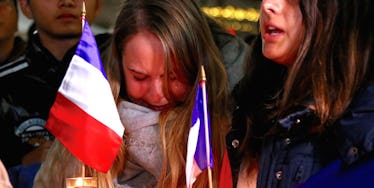 5 Ways To Make Coping With World Tragedies A Little Easier
REUTERS
From the killings of Alton Sterling and Philando Castile, to the Dallas sniper attack to the terrorist attack in Paris and the military coup in Turkey, it seems as if endless tragedy has reigned upon every corner of our world.
These strike fear into the hearts of millions. Most recently, fear was struck into the hearts of New Yorkers after there was an "intentional explosion" in Manhattan this past weekend.
These tragic events have been devastating to watch unfold.
They have had a tremendous impact on the hearts and minds of the victims and their loved ones who have experienced these tragedies firsthand, and they have also had a profound affect on us all.
Dealing with tragedy is difficult, and although this isn't often discussed, moments like these can both heighten and trigger symptoms of anxiety, panic disorder and PTSD.
During these past weeks, I found myself having a difficult time taking everything in. I couldn't eat. I couldn't sleep. I was paralyzed with fear, making it two days before I could muster up enough courage to go outside of my home.
My eyes were instead glued to my computer screen and phone just waiting for the tragic updates to end, waiting for a resolution and progress.
Instead, I was greeted with more images and tweets of tragedy, resulting in severe anxiety because I am, unfortunately, one of the 40 million Americans who suffer from anxiety and panic disorder.
I have a few calming methods that have worked for me over the past few years and this past week.
Here are my tips on how to cope with world tragedy and the anxiety that may come as a result:
Communicate
The best thing to do during times like this is to confide in someone close to you. Talk to a relative or dear friend about your inner thoughts and feelings, no matter how dark or embarrassing they seem to be.
There may be a chance that they share similar perspectives and emotions regarding the matter. And even if they don't, they'll be able to nurture you with sound advice.
If you'd like to receive additional guidance on how to move forward, talk to your primary doctor about the possibility of seeing a local counselor or therapist.
Pray
As cliché as this always sounds, just as there is power in numbers, there is power in prayer.
Take time during your day to have a moment with the higher power you believe in. You can do this both in private or in public, inviting your friends, family and neighbors to share this special moment with you.
This moment will allow you, your loved ones and your community to find healing, strength, forgiveness and most importantly, spiritual peace.
Take time during your day to have a moment with the higher power you believe in.
Break Away From Social Media
As tempting as it is, social media is one of the main places you may need to take a break from during the aftermath of world tragedy.
It is definitely OK to utilize social media to receive updates on the current tragedy taking place and to send your support (especially if you may need to contact your loved ones), but keep in mind that refreshing your timeline every five minutes to be repeatedly exposed to such horrors can be emotionally draining.
So, make sure to take some time away from the computer and away from your phone, even if it's a mere five minutes, to reflect and most importantly, to recharge.
Avoid Tuning Out
During times of tragedy, it can be so easy to succumb to feelings of numbness as a result fear and hopelessness, but I encourage you to not allow yourself to fall into that trap of despair.
It's important to allow yourself to feel the emotions running through you, even if you do not fully understand them. It's also important to remain as active as possible.
Indulge in activities outside of your home with your family and friends, even if it's as simple as spending a day at the gym.
It's important to allow yourself to feel the emotions running through you.
Overcome Your Anxiety
If you suffer from panic attacks (just as I do), severe anxiety or PTSD, seek proper care from your primary physician.
They will refer you to a therapist and psychiatrist who will be able to prescribe medication for immediate relief. And if medication isn't an option you want to pursue, they will teach you special techniques to control your symptoms.
One of the most popular techniques for panic attacks, in particular, is using a paper bag to control hyperventilation. It has helped me tremendously over the years.
To find out more on the technique, refer to the Anxiety And Panic Disorders Health Center on WebMD.
Tragedy is unpredictable. And those who suffer from anxiety and panic disorders don't do well with unpredictability.
Make sure you take the necessary measures to keep your mental health in shape. You never know when these calming techniques will be of vital importance.