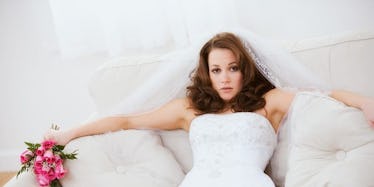 8 Bridezilla Moments You'll Undoubtedly Experience Before You Tie The Knot
Sean Locke Photography/ Shuttershock
No matter how much of a laid-back person you are, certain situations leading up to your wedding day will unleash your inner bridezilla. It happens to the best of us. There's so much that goes into wedding planning and coordinating so that everything fits into what you want, things can get a tad overwhelming.
Weddings are such a profitable business, because millions of people pour their dreams into them... at a price. And if you've ever been the bride, or in the wedding party, you know that the stress of getting everything together for this one day takes a toll. Keeping your composure leading up to the wedding is almost impossible if certain things present themselves... and they will.
1. Any And Everything Involving Your Wedding Dress
We all know the importance of finding and wearing that one dress that seems like a total dream come true. Any last-minute alterations or complications are grounds for you to lose your sh*t real quick. A broken zipper is situation you seriously don't want to find yourself in.
2. When People Don't Return Their Save The Dates
Blame technology. People will not see the point of mailing back your save the date cards, because they'll think sending a text is the same thing. Unfortunately, that courteous tradition of weddings is dying right before our very eyes.
3. When Literally Everyone Is Asking If They're Invited
People are excited for your big day, as they should be. That also means all of the randoms come out of the woodwork, declaring their space at a wedding they aren't invited to. Just because we shared crayons once in first grade, doesn't mean you're invited.
4. If A Bridesmaid Complains About Their Dress
I'm sorry, but bridesmaids really shouldn't complain about anything. They're there to support the bride in all things leading up to her big day, not complicate things. A bridesmaid complaining about her gown is the last thing any bride should have to worry about.
5. Putting Together Seating Arrangements
Sooner or later, you get tired of considering everyone's personal issues regarding seating. Either there's family beef, or divorcees that can't stand each other. It can be intolerable, and you're bound to freak out over it.
6. Repeating Any Answered Questions About The Wedding
Look, you're still trying to figure out the small details for the wedding yourself. It certainly doesn't help having to answer everyone else's repetitive questions. Either be there, or be square.
7. Defending Any Non-Traditional Factors About The Big Day
Everyone will have their opinions about what you should do. And as much as you value some of their advice, it will get overwhelming how much people try to enforce their own preference on your wedding. It's your special day, not theirs.
8. When Things Stray Away From What You Envisioned
While nothing is perfect, every woman wants her wedding day to be close to it. When the slightest thing that shouldn't be going wrong does, it can make you have a mini or major bridezilla freakout. It's unfair, but you deal with it nonetheless.
Some bridezilla tendencies are warranted from annoying things that happen leading up to the wedding. At the end of the day, the goal is to get married to the person you love. If you did that, mission accomplished.