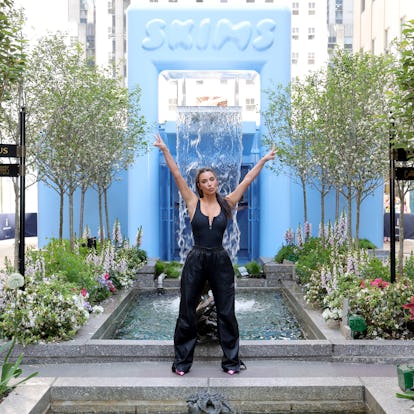 I Went To SKIMS' Summer Pop-Up Shop In NYC & The Vibes Are Beachy
Kim, you're doing amazing, sweetie.
Courtesy of SKIMS
We may receive a portion of sales if you purchase a product through a link in this article.
No one knows how to turn up the heat quite like the Kardashians. Ahead of the hottest season of the year, Kim K's SKIMS just opened a pop-up in New York City inspired by SKIMS Swim, and it absolutely screams summer. From the outdoor diving board featuring a cascading waterfall in front of the entrance to the selection of bathing suits adorning the walls, it's a must-stop shop for K-dash fans in the NYC area, especially in the days leading up to Memorial Day (aka the day the shop closes).
Shortly after the fashion mogul made her Tuesday, May 16 appearance on The Today Show in front of the pop-up — wearing Barbiecore pink booties, a pair of slacks by her faves at Balenciaga, and an unzipped black SKIMS swimsuit (you know, to get that self-promo in there) — the shapewear and clothing brand's first-ever NYC space opened its doors to the public in Rockefeller Center. In the interim, I, along with influencers like Remi Bader, managed to sneak a peek at the activation on opening day so you, dear readers, know what to expect.
Inside Kim K's SKIMS Summer Pop-Up Shop In NYC
Unlike the hot pink, Barbiecore aesthetic of SKIMS' Valentine's Day pop-up in Los Angeles earlier this year, the light pink and mostly iris blue tones of the new shop are so dreamy, it's like you're on the inside of a cloud. As with most spaces in NYC, the SKIMS summer pop-up has a very charming and cozy setup, which — if you're in the know on real estate jargon — is the polite way of saying it's v small. It's giving minimalism, but you know Kimmy wouldn't have it any other way.
Where Is SKIMS' Summer Pop-Up Shop Located?
The official address is 620 Fifth Avenue, located in Channel Gardens at Rockefeller Center, which may not mean much to you, but do you know where the Rockefeller Center Christmas Tree usually is? Yup, there — that's where you'll be able to find the SKIMS pop-up. It's right by allll the good stuff, like Tiffany's, FAO Schwartz, and where all those shows (including Today) are filmed inside 30 Rock.
When Is SKIMS' Summer Pop-Up Shop Open?
From now until May 29, you can visit the latest KarJenner pop-up space from Monday-Friday, 10 a.m.-8 p.m. ET; Sunday 10 a.m.-7 p.m. ET. The shop will be closed on Saturdays, so you can allow yourselves a little breather then. If opening day was any indication, it'd be in your best interest to get there early, as there were people waiting to get in starting at 8 a.m.
Here's What You Can Buy At SKIMS' Summer Pop-Up Shop
Most of what you'll find in the shop should be familiar to frequent SKIMS shoppers (think: SKIMS Swim, tees, fleece sets, and Fits Everybody panty packs), as they've all previously launched on the SKIMS website. However, some of what you'll find may be low or out of stock in the online store, including SKIMS' long slip dress that went viral in summer 2021. New shipments of all sizes (up to 5X) are set to come to the store daily, sometimes with different items inside, so you may want to consider popping in more than once.
Shop Kim K's SKIMS Summer Pop-Up Shop Merch
If you don't manage to find anything you'd like to buy in the space, you could still get some sweet treats from NYC's iconic Morgenstern's Ice Cream, with the SKIMS logo emblazoned across it, naturally. TBQH, that may be worth the wait alone.