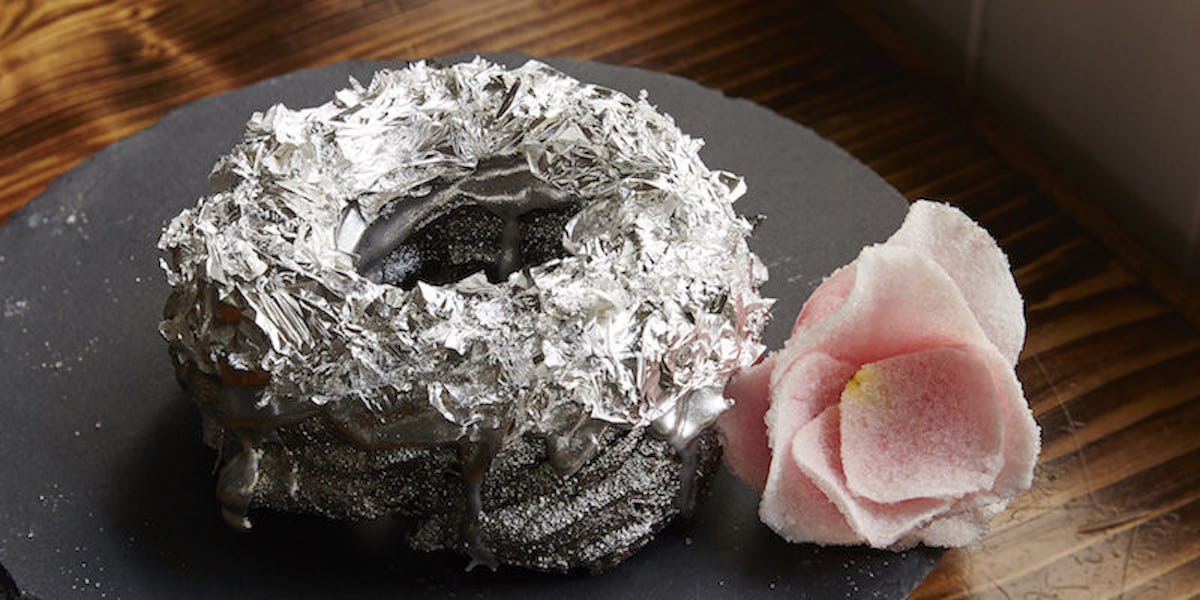 This Insane Platinum Doughnut Covered In Tequila Icing Looks Delicious
Tim Williams Photography
There are all sorts of ways you can celebrate Cinco de Mayo.
You can spend the day blacking out with some guilt-free margaritas, make an awesome DIY taco piñata filled with tipsy treats or, you know, stuff your face with a platinum-plated doughnut, of course.
Remember when we made you drool over that glorious $100 gilded doughnut from Manila Social Club a while back?
Well, if you though that golden baked good was seriously impressive, you might want to brace yourself.
It turns out Manila Social Club's executive chef and co-owner, Björn DelaCruz, is back at it again, and this time, he's whipping up some over the top eats in honor of Cinco de Mayo.
Feast your eyes on the almighty Patrón Platinum Donut.
Apparently, the inspiration behind DelaCruz's chrome confection all came from the flavors of Patron's Margarita of the Year winner, the Rosa Picante cocktail.
According to a press release, each treat is "a rose petal doughnut filled with cream and a spicy ginger-jalapeño margarita jelly, covered in a sweet tequila frosting and then finally topped off with sheets of edible silver and platinum."
If you're looking to score some of these sweet luxury goodies, you can order them from Manila Social Club during the week of Cinco de Mayo for $150 each.
Check out the pictures below to see this tasty Cinco de Mayo treat.
If you're looking to celebrate Cinco de Mayo with some decadent sweets, look no further.
Björn DelaCruz of Brooklyn's Manila Social Club just created one seriously epic treat for the occasion.
Behold, the $150 Patrón Platinum Donut.
That's right. Luxe pastries decked out in tequila and edible platinum are now a real thing...
...and these circular chrome confections look insanely delicious.
These limited-edition eats are filled with cream and a spicy ginger margarita jelly, covered in frosting made of tequila and finished off with a dusting of edible silver and platinum.
Plus, you can stuff your face with decadence in the name of charity, since Manila Social Club will donate the proceeds from its Patrón Platinum Donuts to the American Cancer Society.