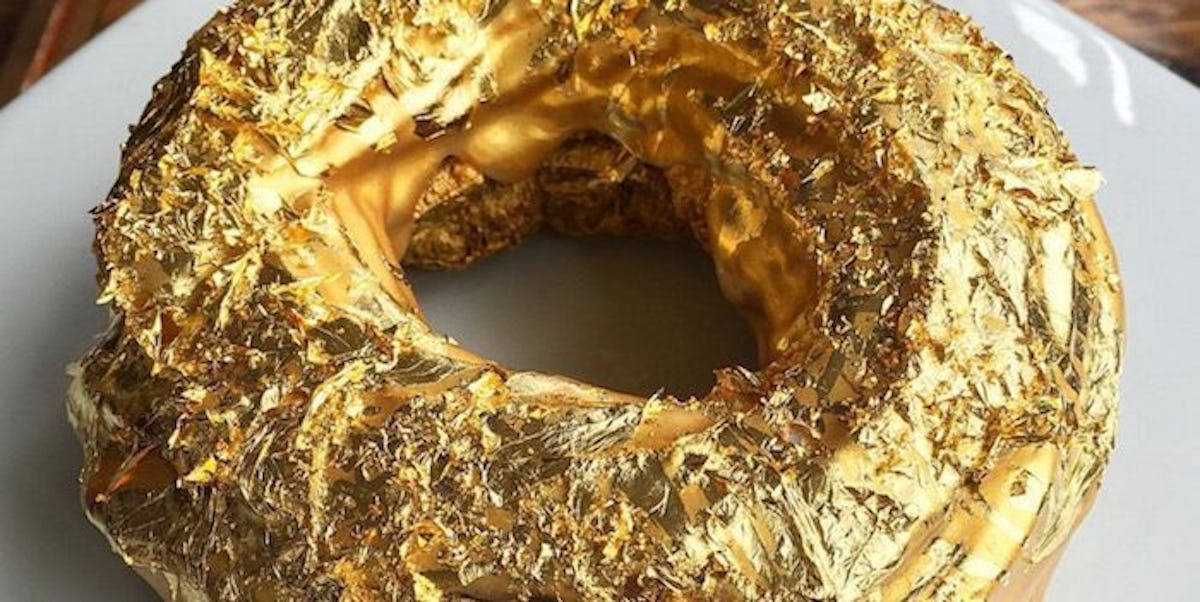 You Can Actually Eat This Insane $100 Doughnut Made With 24-Karat Gold (Photos)
We've all seen some seriously over-the-top food creations that push the boundaries of fine dining.
But have you ever wondered what would happen if you decided to add some precious metals to your favorite breakfast pastries?
Well, the answer is quite simple. You get the world's first golden doughnut, of course!
That's right. Thanks to trendy Filipino restaurant Manila Social Club in Williamsburg, Brooklyn, you can now get your hands on a doughnut actually covered in real gold.
I know, what a time to be alive.
It turns out Manila Social Club is no stranger to dishing out some expensive sweets and gained a lot of attention in the past for its popular purple Ube Bae Donuts, which sell for $40 a dozen.
But those purple pastries are nothing compared to the new Golden Cristal Ube Donut.
As you might expect, this gilded bad boy is a bit on the pricey side, selling for $100. But then again, you get what you pay for, and this tasty treat is covered in a sh*t ton of gold after all.
Take a look at the pictures below to see the decadent doughnut.
If your pockets run as deep as your love for doughnuts, you might want to pay attention.
Manila Social Club just took your favorite circular snack to the next level...
...by smothering it in gold! Yes, real gold!
Yep, the trendy Brooklyn restaurant is now dishing out Golden Cristal Ube Donuts.
The treats feature an ube mousse, champagne jelly-filled doughnut...
...and Cristal Champagne icing topped off with a layer of 24-karat gold flakes.
Seriously, whoever said, "Diamonds are a girl's best friend," clearly never saw one of these stunning sweets.
Citations: For $100, you can eat a doughnut covered in gold flake and icing made from Cristal Champagne (Business Insider)