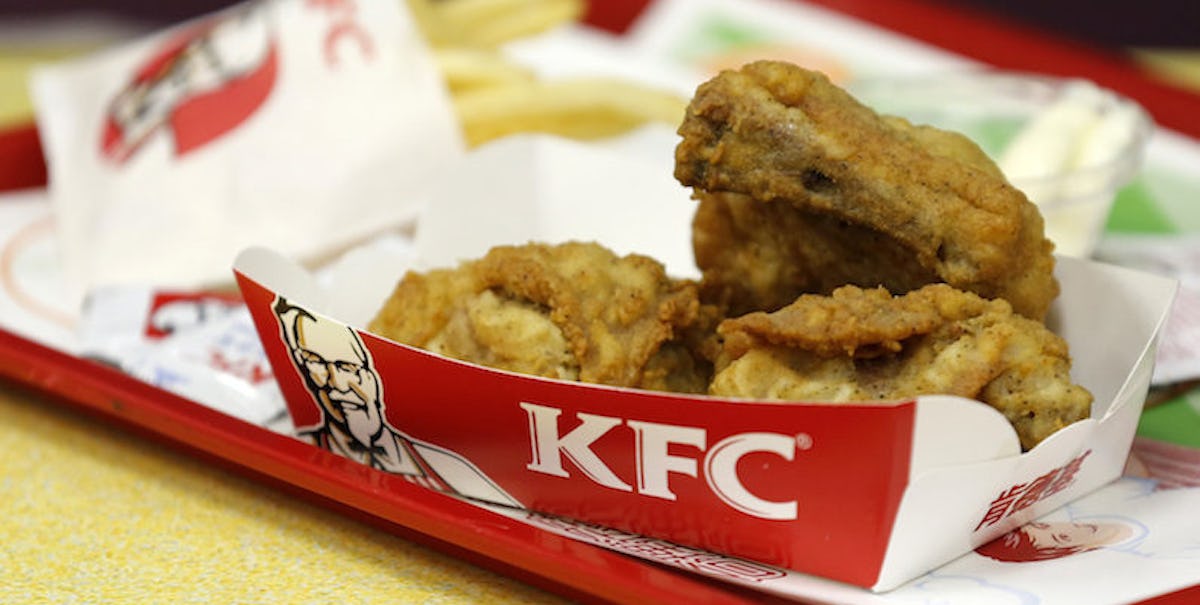 KFC Releases An Edible Nail Polish That Actually Tastes Like Fried Chicken
REUTERS
There are some things in life that just shouldn't be mixed.
Like fast food and beauty products, for example.
Remember when we showed you that strange burger-inspired perfume a while back? Personally, I thought Burger King was pretty damn bold when it decided to venture into the realm of cosmetics by bottling up a signature flame-grilled fragrance.
But spritzing yourself with a scent that will make you smell like your favorite beefy drive thru snack is nothing compared to the new beauty product we just stumbled upon.
Yep, if you're more of a fried chicken kinda gal, you're in luck.
KFC just created a nail polish that lets you wear your chicken on your nails and eat it, too.
No really, I'm not joking.
Apparently, KFC teamed up with the spice scientists over at McCormick to develop this edible nail polish that actually tastes like fried chicken when you lick it. And, it even comes in two different flavors.
Yeah, it sounds pretty f*cking weird if you ask me.
The KFC press release says,
This limited edition edible nail polish was created as a tribute to the world famous 'It's Finger Lickin' Good' slogan.
If you're wondering how this whole edible nail polish thing works, it's quite simple.
The press release explains all you have to do is "apply and dry like regular nail polish and then lick -- again and again and again."
Unfortunately, KFC will only be launching its nail polish in Hong Kong at the moment.
So if you're looking to get in on the shameless "finger-lickin'" action, you'll probably need to take a trip halfway across the world.
But hey, look at the bright side.
You can score some KFC nail polish and rainbow grilled cheese while you're over there, and then entertain yourself on the flight home by licking your fried chicken-flavored fingernails.
KFC just set out to take its "finger lickin' good" endeavors to a whole new level by creating two edible nail polishes that actually taste like fried chicken.
.@KFC just launched nail polish that tastes like fried chicken: https://t.co/KyKwkULxB4 pic.twitter.com/kzmEcVZzBM — Allure (@Allure_magazine) May 4, 2016
The new nail polish comes in two flavors (shades): a nude-colored polish that tastes like the Original Recipe chicken...
I really thought this was a joke... KFC nailpolish pic.twitter.com/fvIOr0zSMc — BallerAlert (@balleralert) May 4, 2016
...and a red shade that captures the flavors of KFC's Hot & Spicy fried chicken.
Finger lickin' what? KFC is selling chicken-flavored nail polish. https://t.co/c0qF6eGMhr pic.twitter.com/DI7btCbZ1c — Digiday (@Digiday) May 4, 2016
Apparently, KFC is only launching its polishes in Hong Kong.
Wait - @kfc created an edible nail polish that tastes like chicken? Yeah, I'd try that. Anyone in Hong Kong want to get me some? — Lisa (Agnes) Filipek (@lisafilipek) May 4, 2016
But, as you can imagine, this new product has a lot of people asking one simple question: Why???
1st Trump becomes a presidential nominee, now KFC makes chicken flavored nail polish. Who spiked our drinking water? https://t.co/IjWtoM3Apo — Josh de Lioncourt⚔ (@Lioncourt) May 4, 2016
Citations: KFC Is Launching Edible, Chicken-Flavored Nail Polish (Teen Vogue)