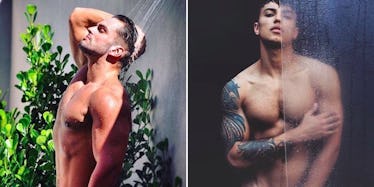 'Hot Dudes In The Shower' Might Be The Steamiest Instagram Account Ever
Instagram
Lately, social media has seen everything from hot dudes with dogs and gorgeous men drinking coffee to sexy nerds and even cute guys playing with kittens.
If you thought there was nothing else hot dudes could do to make you drool, think again.
We recently stumbled across an Instagram account that will give you some seriously dirty thoughts.
Yep, Hot Dudes In The Shower is the newest eye-candy account on Instagram, and as you can probably imagine, this collection of bathing babes is basically making women lose their damn minds.
Seriously, I don't think anyone would mind waking up extra early to shower with one of these studs before work.
Take a look at the pictures below to see some squeaky clean cuties.
Move over, hot dudes with kittens...
There's a new Instagram fogging up our phone screens...
...and these blessed babes are guaranteed to make you extra thirsty.
Behold: Hot Dudes In The Shower.
As the name implies, this account features a bunch of handsome hunks...
Who aren't afraid to strip down...
Turn on the water...
...and take long, hot showers.
Seriously, who knew washing up could be so damn irresistible?
Just look at this buff, bathing beauty...
This soapy stud...
This tantalizing man in a towel...
...and this dripping dude.
You might want to open up a window because it's pretty steamy in this shower stall.
I'd save water by showering with you any day, babe.