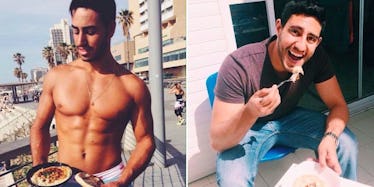 Hot Guys Eating Hummus Will Make You Hungry For More Than Just A Snack
If there's one thing the Internet never seems to get sick of, it's hot guys.
From hot dudes with dogs and men drinking coffee to hot, geeky guys reading on the subway -- it seems like there's a "hot dudes" Instagram account for basically anything you can think of nowadays.
A while back, we gave you a glimpse of a glorious Instagram account that paired hot dudes with their delicious doppelgängers.
If seeing all those stud muffins alongside their spirit snacks made you seriously drool, I have some good news for you.
Apparently, Hot Dudes And Food isn't the only eye-candy account on social media that will make you seriously hungry.
Yep, we just came across another heavenly account that combines a bunch of dreamy dudes with one of your favorite spreadable snacks.
Behold, Hot Dudes And Hummus.
Yep, that's right. Some evil genius just made an awesome Instagram account that features all sorts of smokin' hot Israeli men eating this delectable dip in a variety of different settings, and I must say, this might just be the best thing that's happened on Instagram all week.
I mean, seriously, what's not to love about a hot, shirtless man enjoying some chips and dip?
Take a look at the pictures below to see this epic Instagram account.
If you're searching for something to get you through that mid-week slump...
...look no further.
We just found an irresistible Instagram account that will give you all the feels...
...and probably make you pretty hungry, to boot!
Feast your eyes on Hot Dudes And Hummus.
As the name implies, this tantalizing account features all sorts of blessed babes...
...eating some hummus that looks just as delicious as they do.
This account has something for everyone, whether you prefer your hummus at home...
Straight out of the container...
On the beach...
...or hot, spicy and shirtless, of course!
You can double dip in my hummus any day, babe.
Citations: There's An Instagram Account Devoted To Hot Israeli Men Eating Hummus (BuzzFeed)