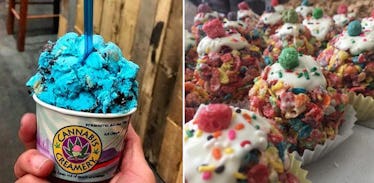 10 Downright Ridiculous Weed Desserts That Will Get You On A New Level Of High
Instagram
April 20 is a day many people dedicate to celebrating one thing, and one thing only: weed.
If you like to get stoned AND you consider yourself an esteemed wine aficionado, you're probably already getting lit with cannabis-laced wine, referred to as "Canna Vine." It's the gem of a product produced by California winemakers (only available in Cali).
Couples who are passionate about weed have been tying the knot in marijuana-themed weddings, and yogis have been chilling out the mind, body and soul by taking up weed yoga classes.
There's even a gym where you can roll up and light up before powering up on the elliptical and getting your squat game on.
Seriously though, if you're hardcore struggling to get in the gym vibes, this seems like the prime way to go.
Heck, your pooch can even chill the heck out with you by casually munching on dog treat edibles that contain cannabidiol (CBD).
The most incredible thing about this is veterinarians say CBD is an efficient way to aid a plethora of canine medical conditions.
In honor of lighting up today, let's first get our priorities in line.
If you have a passionate sweet tooth, here are 10 edibles (from bakeries that sell marijuana desserts and snacks) that will get you on a new level of high... because they look so fucking delicious.
One of the bakeries featured in this list, Babinka Treats, describes itself as "SoCal small batch bakery specializing in shatter infused custom cakes, baked donuts and other sweet treats" on Instagram.
And these drool-worthy pictures pretty much speak for themselves...
1. I scream, you scream, we all scream for cannabis ice cream.
3. ... And feast on whimsical doughnuts all damn day long.
7. Nothing beats chocolate-covered sour gummy worms.
8. This blueberry jam puts a dazed and delicious spin on your typical Girl Scout cookie treats.
10. This s'mores cake will certainly put you in a sugar-induced food coma.