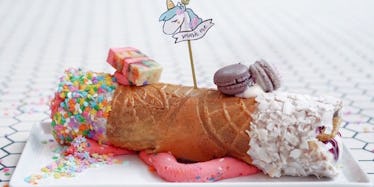 This Unicorn Cannoli That Oozes Rainbow Goodness Will Be Your Next Go-To Dessert
Courtesty of Gelso & Grand
Holy cannoli! We've discovered a mystical answer to your favorite Italian dessert, and it's even more enticing than a pot of gold.
All thanks to Gelso & Grand, a creative New York City-based restaurant, we've been introduced to the "Unicornolli," which is a magical upgrade on the cannoli we've all grown to love.
The rainbow treat is filled with funfetti cake and homemade buttercream, and is and topped with lavender macaroons, graham crackers, and colorful sprinkles. It's certainly a mystical dessert if ever there was one.
Though I'm an Italian girl who grew up eating the classic treat every holiday, I am certainly not one to complain if my relatives brought a "unicornolli" to our Fourth of July BBQ.
Oh, did I mention that the selection also features a dusting of 24-karat gold on its shell? Not that you needed any further convincing, but this cannoli is kind of a big deal.
The New York City-based restaurant — which features dishes like wild mushroom pizza, brown butter gnocchi, and a variety of interpretations on the classic bruschetta — recently gained a lot of attention for its bright and whimsical dessert, rightfully so.
The owners of Gelso & Grand, Nima Garos and Koorosh Bakhtiar, talked to Elite Daily about their creation.
They tell us, "We wanted to raise eyebrows with an innovative, scintillating dessert that tastes as good as it looks — and thus the Unicorn Cannoli was born!"
The owners also commented on the positive reactions they've gotten from the treat
They tell Elite Daily,
The feedback and response have been amazing! We love that guests are drawn in by the look and stay to enjoy every bite. Being able to give guests an enjoyable, enviable experience inspires us to continue creating exciting ways for us to interact with our guests.
I don't know about you, but I am definitely ready to get my unicorn on.
But if you're someone with a sweet tooth who'd rather not give in to the happy-go-lucky unicorn food trend, you can take comfort in the fact there's an extra factor to appreciate about this order.
Hint: Did you notice the small "smash me" sign protruding from the dessert?
The unicornolli comes with a unique utensil — a mini hammer — with a label that says "smash me," so you can let out all your pent-up anger, making you feel tough and powerful before inhaling your colorful treat.
There's definitely no judgment here, folks. We'd smash one of those babies, too.
But the unicorn love doesn't stop there: You can also send your tastebuds on a magical journey with a slice of unicorn pizza, unicorn ramen, or unicorn macarons. The possibilities are endless, so don't be afraid to dream big. Your inner Lisa Frank obsession will thank you.