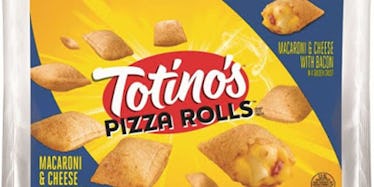 Totino's Mac 'N' Cheese Pizza Rolls Will Bring Midnight Snacking To A New Level
Totinos
You guys, Totino's has really outdone itself with its newest, extra cheesy pizza rolls flavor: Macaroni and Cheese with Bacon.
That's right, the geniuses at Totino's have actually combined two of my favorite meals — mac 'n' cheese and pizza — into the bite-sized rolls I've been enjoying since the '90s.
Before we get too excited, this savory new flavor is not exactly in stores... yet. Thrillist reports the first round of shipments went out the week of July 17, but they won't be available everywhere until October.
So basically, it's time to stalk your freezer aisle. As soon as you catch a glimpse of everyone's favorite cheesy pasta next to all the other pizza roll flavors, grab a box.
A company spokesperson told Thrillist that Macaroni and Cheese with Bacon is its first new flavor since releasing the limited edition Cheeseburger in 2016.
This is a momentous occasion!
The company's latest announcement comes on the heels of Pizza Hut's equally impressive Mac 'N' Cheese Pizza, which is an entire pie covered in the cheesy stuff.
Unlike Totino's bacon-packed flavor, Pizza Hut UK's giant version is available in a regular option ("The Cheesy One") and a barbecue option ("The BBQ One").
In a July 10 press release, the famed pizza brand called it one of their best creations yet (and I have to agree). They said,
We don't mean to brag — but at Pizza Hut towers, we think it's literally the best pizza we've ever made ever. Like… EVER.
In this instance, it's totally okay to brag.
Totino's should do the same, honestly.
Even though I've come a long way since my days of microwaving pizza rolls (and always burning my mouth with their super hot filling) on the reg, come October, I'll definitely be renewing my obsession.
Because macaroni and cheese is the best, everyone. It just is.