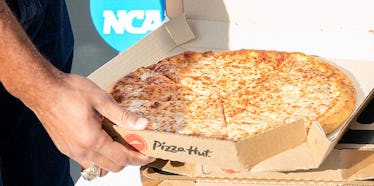 Pizza Hut's New Mac 'N Cheese Pizza Looks Delicious And We're Overwhelmed
If I could build my dream pizza, it would be a thin crust pie topped with truffle mac 'n cheese.
I don't think that particular pizza exists as of right now, so I'll probably have to make it myself. But thanks to Pizza Hut, a delicious mac 'n cheese pizza is now a reality.
This pie is seriously dreamy, but the only issue is that the drool-worthy mac 'n cheese pizza is only available in the UK (hopefully it'll make its way to the United States sooner than later).
Unfortunate news aside, Pizza Hut UK's new cheesy creation comes in two different flavors.
Customers can opt for a traditional mac 'n cheese pie, called "The Classic One," which is made with a three-cheese sauce and a béchamel base.
Or, they can go for the BBQ mac 'n cheese pizza -- called "The BBQ One" on the company's press release -- which is pretty much the same as the traditional pie, except instead of béchamel, it uses BBQ sauce and a BBQ drizzle over top.
Oh, and things get even cheesier.
Pizza Hut UK's Mac 'N' Cheese Pizza also comes with a cheese-stuffed crust option that customers can opt out of if they feel too overwhelmed by all the cheese.
The pizza giant is very proud of their work and shared this message on the press release for its Mac 'N' Cheese Pizza:
We don't mean to brag — but at Pizza Hut towers, we think it's literally the best pizza we've ever made ever. Like... EVER.
Thanks for rubbing it in, Pizza Hut!
If you're wondering whether or not Twitter approves of this cheesy masterpiece, check out the tweets below.
"America loves it."
Twitter user @JenkinStein11 really wants this pizza to arrive Stateside.
I've never agreed with another human being more.
There's another catch even for those in the UK, though. Pizza Hut UK's Mac 'N' Cheese Pizza is available in restaurants only.
That kinda sucks, but now I don't feel as bad.
While I wait for their Mac 'N' Cheese Stuffed Crust pizza to arrive in the United States, I'm gonna head to my local grocery store, buy all the ingredients, and make my own mac 'n cheese pizza at home.