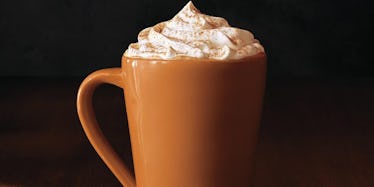 Starbucks' Pumpkin Spice Latte Is Back And Twitter Is Freaking Out
Starbucks
'Tis the season for pumpkin spice and everything nice. If you're wallowing in post-Labor Day blues, the return of everyone's favorite Fall drink will surely get you out of your funk. The highly anticipated PSL is making its 2017 debut on Sept. 5, and needless to say, customers are loosing their cool — just take a peek at the tweets about Starbucks' Pumpkin Spice Latte. The social media hype proves that beach days and berry frapps are a thing of the past... even if the weather is still fairly warm.
To mark the occasion, Starbucks unveiled the big PSL news through a Sept. 4 livestream that put all others to shame. Pups, kittens, and celebrity guests reading bedtime stories were just several aspects of the event. There were also aromatherapy sessions and portrait paintings until the moment the PSL "hatched" for the first time in 2017. You can officially mark Sept. 5 as your new favorite fall holiday: it's Pumpkin Spice Latte Day. Thank you, Starbucks, for gifting us with this extraordinary reveal.
Fans have been anxiously awaiting the arrival — some took things to the next level and unveiled an online PSL tracker. Thirsty customers couldn't wait until the coffee company confirmed the PSL release date, but now, rest assured that the PSL is yours for the taking.
Brace yourself. It's time for all-pumpkin everything.
Starbucks aficionados have been waiting patiently for this moment.
PSL Day is everyone's favorite holiday. What's Halloween?
If being "basic" is wrong, then some people don't want to be right.
Haven't you heard that PSL Bible verse? It's true.
Fans are all about the PSL sweater-weather season, and rightfully so.
If a PSL order isn't enough, there are now even more ways to channel that "basic" aesthetic. Try some PSL deodorant or PSL ombré hair to really celebrate the season. Naturally, there are also pumpkin treats galore, so you don't just have to settle for pumpkin in your coffee.
Here's to the best PSL season yet. See you (and your order) on Instagram.