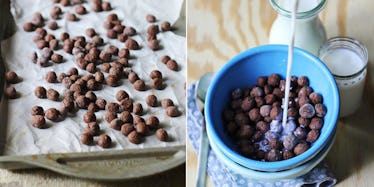 Your Prayers Have Been Answered: There's A Nutella Breakfast Cereal (Photos)
A Beautiful Mess
When it comes to the world of coveted condiments, nothing comes even remotely close to topping the deliciousness of Nutella.
Remember when we showed you all of those delicious Nutella food creations?
Well, someone just used this spreadable form of pure happiness to make the ultimate breakfast food mashup.
Instead of starting the day off with some bland oatmeal or another banana, you can now begin your day by chowing down on a big badass bowl of Nutella cereal.
That's right, your favorite morning meal has just been taken to the next level by the holy grail of chocolate hazelnut spreads, and it's simply beautiful.
Created by A Beautiful Mess, this ingenious breakfast cereal tastes pretty similar to eating a mountain of mini Nutella cookies floating in milk, and it looks absolutely delicious.
Plus, the creators were even nice enough to reveal their recipe so you can make this awesome cereal at home yourself.
All you need is some flour, cocoa powder, salt, eggs, corn syrup, milk and Nutella, of course.
Then just follow the recipe directions and, in no time, you'll have a breakfast cereal that would make you go more cuckoo than that character from the Cocoa Puffs commercial.
With this awesome cereal concoction, gone are the days of spending your Saturday mornings watching "SpongeBob" with a bowl of plain old, boring Corn Flakes. Now you can satisfy your early sweet tooth by eating an endless amount of homemade Nutella-spiked cocoa puffs.
Breakfast will never be the same.
Take a look at the pictures below to see this amazing Nutella cereal.
Behold, homemade Nutella cereal.
There's no better way to start your day than with a delectable bowl of chocolate-hazelnut cereal.
It's almost like eating an endless amount of mini Nutella cookies in milk.
You'll never be able to go back to plain old Cocoa Puffs after eating a delicious bowl of this badass cereal.
Citations: Nutella Breakfast Cereal Is The Perfect Start To Every Morning (Huffington Post)