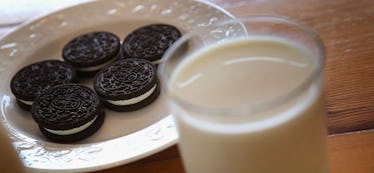 Cadbury-Coated Oreos Are The Cookies Every Chocolate Lover Has Dreamt About
Scott Olson/ Getty Images
Cadbury Eggs are obviously one of the best treats you can stuff in an Easter basket. (OK, or if I'm being honest, you can stuff anywhere whenever they're available.) You can't just have one chocolate-y, bite-sized candy... you need about 101, and understandably so (or the whole bag). Now that the decadent goodness has come to milk's favorite cookie, you'll find yourself asking "Where can I buy Cadbury-Coated Oreos?" before your next supermarket outing. (I don't blame you for asking, either!)
The snack is just as lovely as it sounds: a Cadbury chocolate finish glossed over an Oreo. This fantastic combo — a cookie that would make Willy Wonka proud — is just begging to be dunked. This could quite possibly be Oreo's best partnership yet, though there have been plenty of winners as of late.
You've probably tried the limited-edition Dunkin' Donuts Mocha Oreos, and I'm sure you're aware if there's a perfect pairing out there, it's definitely coffee and cookies. Your summer dinner parties were most likely chock full of other Oreos, too, such as the Firework Oreo and the re-released Blueberry Pie Oreos. All solid choices, but let's be real here: the Cadbury-coated Oreo is taking things to the next level.
This is why I hate to be the bearer of the bad news: Unfortunately, these cookies are currently only available in Australia. If you already live down under, yay! Lucky you! If you don't, now's the time to book a trip to the opposite end of the world. Cookies are definitely cause for serious moves. And let's face it, there are plenty of flight deals taking place, so if you really need that extra push to purchase a ticket, I've got you covered.
Though this brilliant combo hasn't landed on shelves in the United States just yet, I'm willing to bet that the craze will catch on soon enough... well, at least we can hope, right? To get your mind off the cookie, might I suggest holding yourself over with a Spiced Mai Tai Sherbert Sundae for National Rum Day?