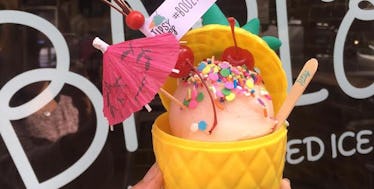 This Boozy Spiced Mai Tai Sherbet Sundae Is A Must-Have For National Rum Day
Tipsy Scoop
Summer isn't over yet, and National Rum Day on Aug. 16 lets you have one final hoorah before the season comes to a close. While celebrating the holiday with a rum-infused cocktail is well and good, adding ice cream to the mix just takes the experience to another level. Thanks to the Spiced Mai Tai Sundae at Tipsy Scoop, you can enjoy some #boozyicecream knowing you're participating in the holiday and giving it some extra pizazz.
Though rosé and Prosecco are having their moment in the dessert world with ice pops, cupcakes, and doughnuts, the drinks are going to have to share the spotlight. Rum is forging its own path into the sweets territory, all thanks to this new option.
"Sailor Jerry's Spiced rum is perfect for our Spiced Mai Tai Sherbet Sundae," Melissa Tavss, Tipsy Scoop founder, tells Elite Daily. "The citrusy sweet flavors of the lime, orange, pineapple, and orgeat nicely complement the vanilla flavor and hints of cinnamon in the spiced rum. In our rum-infused ice creams and sheberts, the rum flavor really pops at the end of the bite. You get that warm feeling and the hints of oak and clove really come through."
To add to the excitement, the scoops come complete with a tropical pineapple that'll make Spongebob proud. So, are you hungry yet?
"We thought it would be fun in celebration of National Rum day and the launch of our new flavor to offer an additional incentive to purchase the boozy treat," Tavss says.
But that's not the only added perk. Taking a cue from Willy Wonka, Tipsy Scoop decided to pass along envelopes with its National Rum Day order. The one who finds the Golden Ticket will be entitled to a $100 gift card to the New York City store.
"We love the idea of continuing to reward our customers for their support and love," Tavss tells Elite Daily. The next promotion is actually coming up for Bacon Lovers' day this Sunday. The first 100 customers will be eligible for one free scoop each of our Maple Bacon Bourbon ice cream infused with Knob Creek Bourbon."
Not that you need anymore convincing, but the Spiced Mai Tai Sherbet Sundae is basically like summer vacation in a cup, so if you can't let this time of year go just yet, indulge in one of these pineapple bad boys. "[It] tastes just like the cocktail.. only a bit more decadent," Tavss assures customers.
Not in New York? No problem, head to Tipsy Scoop's website to see where you can ship a pint of the boozy ice cream.