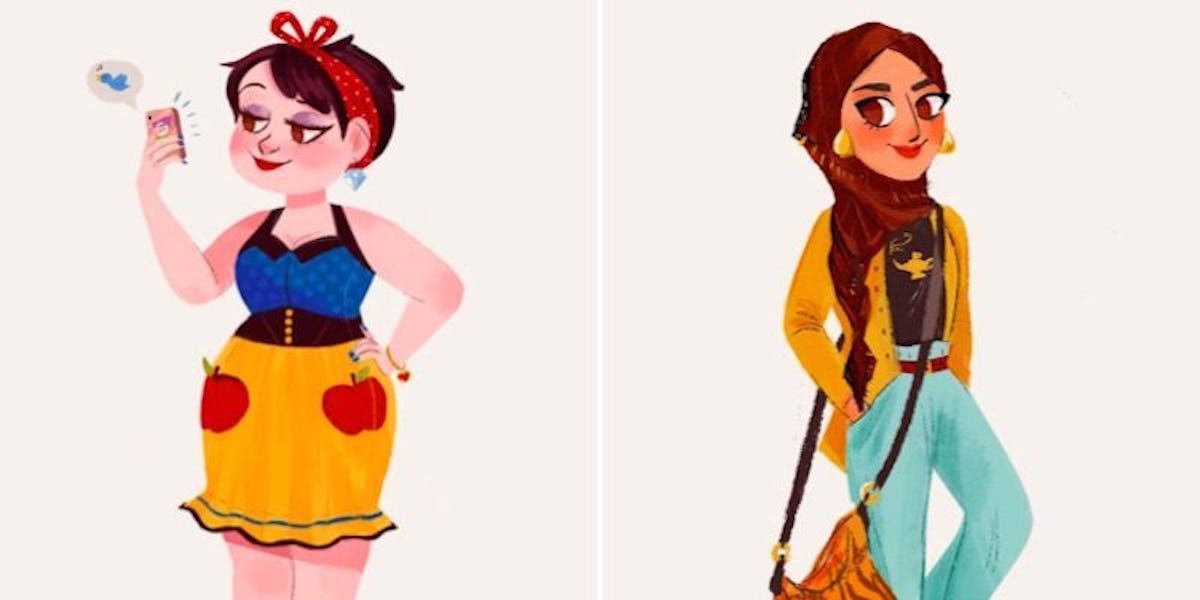 Here's What Disney Princesses Would Look Like If They Were Millennials
From mythical mermaids to senior citizens and Tim Burton renditions -- we've all seen Disney characters transformed into a variety of interesting illustrations.
But did you ever wonder what your beloved princesses would look like if they were just normal Millennials like the rest of us?
Well, thanks to one Canadian artist, we don't have to anymore.
Recently, Anoosha Syed, a talented children's book illustrator and character designer, set out to give the females from your favorite fairytales modern-day makeovers.
The project reimagines a bunch of Disney princesses as women living in the 21st first century, and it's absolutely incredible.
All of Syed's illustrations incorporate something from each character's film into her updated #OOTD, and Syed even takes her drawings a step further by creating a brand new persona to go along with each princess' modern appearance.
Take a look at the pictures below to see Syed's amazing Disney princess illustrations.
Jasmine the Travel Blogger
Belle the Fangirl
Tiana the Entrepreneur
Mulan the Cadet
Esméralda the Ballet Dancer
Pocahontas the Linguist
Ariel the Anthropologist
Snow White the Social Media Queen
Merida the Punk Rocker
Citations: I Illustrated Disney Princesses As Modern Day Girls Living In The 21st Century (Bored Panda)