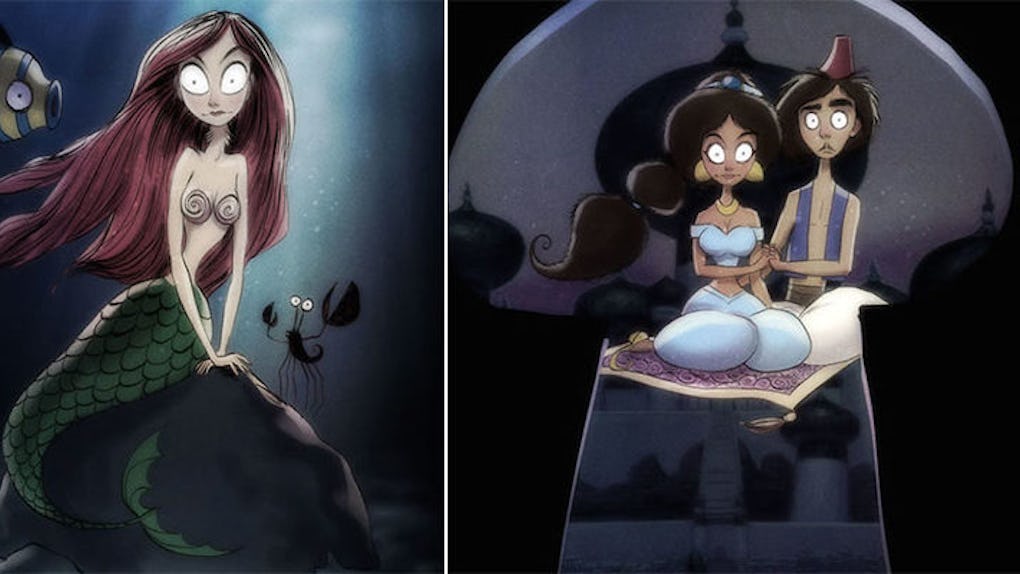 Tarusov
Here's What Classic Disney Movies Would Look Like As Tim Burton Films
If you grew up watching Disney movies, you know these classic fairytales are always filled with brights colors, joyful characters and lively animations.
But have you ever wondered what your beloved Disney characters would look like if they had been dreamed up by the dark and mysterious mind of Tim Burton?
Well, thanks to Andrew Tarusov, we no longer have to wonder.  Recently, this talented Los Angeles-based artist set out to create eerie illustrations that completely revamp your favorite Disney movies.
The collection features 10 ghostly drawings that transform some of Disney's most iconic movie posters into the grim and spooky, yet strangely beautiful style of Tim Burton films.
From a Snow White with large sunken eyes and a bizarre-looking Belle to an illustration of Simba being held over the same cliff featured in "The Nightmare Before Christmas," all of Tarusov's haunting, Burton-esque drawings are sure to send shivers up your spine.
Take a look at the pictures below to see all of these dark, Disney illustrations.
"Dumbo"
"Beauty and the Beast"
"One Hundred and One Dalmatians"
"The Lion King"
"The Little Mermaid"
"Aladdin"
"Snow White and the Seven Dwarfs"
"Pinocchio"
"Bambi"
"Sleeping Beauty"
Citations: If Tim Burton Directed Disney Movies (BoredPanda)