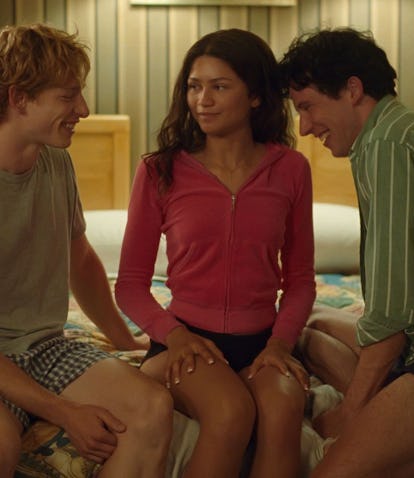 Zendaya Has A Threesome In The Steamy Trailer For Challengers
And it's hitting theaters so soon!
Metro-Goldwyn-Mayer
Zendaya is taking on her steamiest movie role yet with Challengers. The romantic drama stars Zendaya as a tennis pro who finds herself in the middle of a love triangle with two other players. If you can't wait to see Zendaya serve (both on the court and off of it), here's everything you should know about Challengers, including when it will be landing in theaters.
Challengers centers on tennis great Tashi Duncan (Zendaya), who is forced to end her impressive career early after suffering an injury. Instead of playing, Tashi coaches her husband Art (Mike Faist), another pro tennis player. However, when Tashi signs Art up for a tournament in which he will have to face off against Tashi's ex Patrick (Josh O'Connor), old feelings start to bubble up once again. As revealed in the trailer, the movie employs a time jump to show the love triangle first getting to know one another as teenagers in the past, before shifting to their complicated relationships in the present.
The film is directed by Luca Guadagnino, adding to his list of lush romances like Call Me By Your Name and Bones and All.
Challengers Cast
It only takes three people to make a love triangle. The three tennis players navigating this twisted romance are Zendaya as Tashi, Mike Faist as Art, and Josh O'Connor as Patrick.
Challengers Trailer
Movie fans finally got a first look at all the Challengers chemistry when the trailer dropped on June 20. The clip highlights the messy start to Tashi, Art, and Patrick's relationship, as Tashi coaxes the two men into a threesome in a hotel room. But a flash to the future reveals that the throuple thing didn't work out, and Tashi ends up marrying Art. But don't count Patrick out. When a tennis tournament brings all three of them together again, they must reevaluate their relationships.
Challengers Release Date
Challengers was filmed over the summer of 2022, and it will finally arrive in theaters in early 2024. The movie premieres on April 26.
This article was originally published on