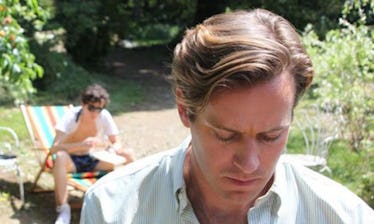 A 'Call Me By Your Name' Sequel Is In The Works, So Get Ready For More Armie & Timothée
Sony Pictures
If you're still reeling from the final moments of Call Me By Your Name you're probably not alone, but don't give hope — that heartbreaking last credits shot isn't the last you've seen of Elio Perlman (Timothée Chalamet) on screen. *Spoilers ahead if you have not seen Call Me By Your Name.* Luca Guadagnino's powerful portrait of the agony and ecstasy of first love was undoubtedly one of the 2017 cinematic playing field's critical darlings, so now a Call Me By Your Name sequel is reportedly in development. You may be wondering how that's going to work, but the director already has plans about how he can take the moving coming-of-age saga to the next level.
The film Call Me By Your Name took place in the summer of 1983 in Northern Italy, which was essential to setting its dreamy, romantic tone. Speaking with Collider, Guadagnino revealed that he has plans to time jump as the tale moves forward, as well as shift the scenery:
I believe that I will end up making a cycle of films about these characters because I love them so much. And I think their experience of life is ripe for many, many adventures … I think the next chapter it will be happening right after the fall of Berlin wall and that great shift that was the end of Russia, of the USSR, sorry. And we'll see people leaving home and going in the world. That's what I can say for now.
He also spoke to The Hollywood Reporter regarding how the next installment would include the AIDS epidemic as a significant element, as well as deal with Elio and Oliver's future selves. Andre Aciman's novel, which the original film is based on, shows the main characters 15 years after their transformative relationship blossomed, so the sequel has a chance to honor that part of their narrative or at least continue developing the characters. He revealed,
The novel has 40 pages at the end that goes through the next 20 years of the lives of Elio and Oliver, so there is some sort of indication through the intention of author Andre Aciman that the story can continue ... In my opinion, Call Me can be the first chapter of the chronicles of the life of these people that we met in this movie, and if the first one is a story of coming of age and becoming a young man, maybe the next chapter will be, what is the position of the young man in the world, what does he want — and what is left a few years later of such an emotional punch that made him who he is?
The concept of reuniting with Elio and Oliver at different stages throughout their lives, marked by different settings and external political circumstances, definitely sounds like an intriguing way to make this work for the long run.
But before Luca and company can tackle a next chapter, they have a busy award season to get through. Call Me By You Name is nominated for four Academy Awards — Best Picture, Best Actor, and Best Writing (Adapted Screenplay), and Best Original Song. 22-year-old Timothy Chalamet is even the youngest Best Actor Oscar nod since Mickey Rooney was recognized back in 1944. The movie didn't go home a winner at the SAG Awards or the Golden Globes, but it picked up Best Feature at the Gotham Independent Film Awards and was one of AFI's top 10 films of the year.
Sequels may not always be welcome when it comes to films held in such high regard, but it sounds like Call Me By Your Name has the potential to keep its story moving and further explore its beloved characters.