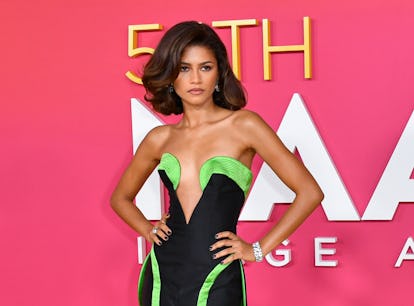 Zendaya Is Serving Bob & Everyone's Living For It
It's the year of the bob, babes.
Aaron J. Thornton/Getty Images Entertainment/Getty Images
After a few months away from the red carpet, Zendaya finally made her fashionable return on Feb. 25, and naturally, she turned a show-stopping look that absolutely lit up social media. When Zendaya hit the 2023 NAACP Image Awards red carpet, all eyes were on her hair. The star debuted a voluminous, layered chocolate bob for the event, and it immediately became the must-have haircut of 2023.
Zendaya proved her fashionista cachet once again by rocking not one, but two vintage designer dresses for the NAACP Image Awards. She arrived in a black and green silk gown from Versace's spring 2002 collection, and then changed into a white crop-top and maxi skirt outfit with intricate cut-outs from Prada's spring 1993 collection. Obviously, the high-fashion looks were major, but the real star of the show was the hair. Zendaya first revealed her shorter, shoulder-length chop at the end of 2022, but it took a couple of months for the bob to get the attention it deserved, since Zendaya skipped the Golden Globes in January. A few days before the NAACP Image Awards, the haircut started getting some attention on social media after a clip of Zendaya running her hands through her new bob went viral. That set the stage for pretty much everyone to lose it when Zendaya strutted down the red carpet with a sleek bob.
Even the photographers on the red carpet couldn't contain themselves. Zendaya shared a clip of one photog excitedly yelling, "Serve it, serve it, serve it!" as she posed, saying that he made her night.
It didn't take long for the glam new hairstyle to take over social media, with some fans even contemplating a drastic chop after seeing Zendaya's bob.
As always, Zendaya's look is on the cutting edge of the trend. Fellow "it" girls like Jenna Ortega and Hailey Bieber also kicked 2023 off by shedding their longer hair for shoulder-length cuts. But no matter how stylish the bob may be, Z's new 'do may only be temporary — her Euphoria character Rue's signature long locks probably won't be changing in Season 3. So enjoy this bob era while you can, Zendaya fans.