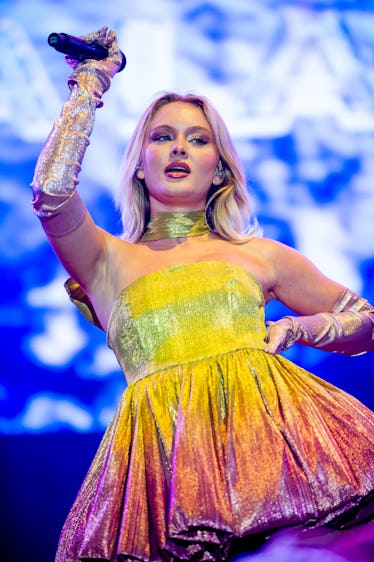 Zara Larsson's "Can't Tame Her" Is Just As Catchy As "Blinding Lights"
She's riding the pop-meets-futuristic wave artists are loving.
Shirlaine Forrest/Getty Images Entertainment/Getty Images
Zara Larsson, arguably one of pop's main girls, has returned to the music scene. On Jan. 26, the singer released her single "Can't Tame Her," offering fans a taste of her upcoming fourth studio album. If this track proves anything, it's that Larsson has been quietly studying the music industry's renewed obsession with futuristic, '80s-inspired synths. She dug deep in her "Blinding Lights" à la The Weeknd bag for this release, and I'm so thankful she did.
"Can't Tame Her" was destined to be a bop, especially with the heavy-weight names in the producer credits. According to a release, Larsson co-write this track with long-standing collaborators MNEK and MTHR. Meanwhile, songwriter Danja (whose signature touch can be heard on Britney Spears' iconic Blackout album) is helmed as a co-producer.
Just shy of four minutes, Larsson croons about an "untamed" dancing queen who doesn't need much — or anything at all — to have fun. Whether she's hinting at herself or a potential alter ego, the character in question is rebelling against the world by unapologetically being herself.
The groovy track pulses in with incredible rhythm, almost reminiscent to that of "Blinding Lights." Those glossy synths blare in command for you to move, and you might find yourself swaying your hips within seconds of the first verse. There, Larsson introduces listeners to the aforementioned fearless woman. She's out on the town and starving for excitement; however, she can't find the perfect place to release that energy.
"Don't need no one, she can dance on her own / Club is closed soon but she ain't going home / Night is still young, where the hell will she go? / Nobody knows, nobody knows," she coos.
Eventually, the woman realizes she's going to have to create her own fun. That awareness picks up in the punchy chorus, where Larsson warmly sings that the woman "can't be tamed" when on a mission. The mission in question? Well, she just wants to party all night.
"No, you can't tame the girl 'cause she runs her own world / So if she wanna party all night (All night) / No, you can't tame her, no / And you can't tie her down when the night comes around / Say she gonna party all night (All night) / And you can't change her, can't blame her, can't tame her," Larsson irresistibly sings in this section.
Her warm timbre glides throughout the second verse, ultimately cranking up the dial in the bridge. With those hypnotic synths on display, Larsson makes it clear that the woman is the main character of this moment. That theme glimmers in the track's music video, which she released alongside the single. Similar to how the song's production mirror's The Weeknd's "Blinding Lights," the MV embodies the same aura as his other After Hours hit, "Heartless."
In both visuals, The Weeknd and Larsson indulge in an unknown substance that brings the fearlessness out of them. Once elevated on their own supply, the two can't seem to come down from the high. Instead, they ride it out and have one hell of a trippy night.