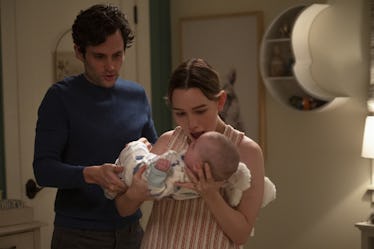 Joe And Love Are The Scariest Parents Ever In The You Season 3 Trailer
Like, I'm seriously concerned for their newborn.
JOHN P. FLEENOR/NETFLIX
From a surprise pregnancy to a new 'burbs address, the You Season 2 finale left viewers with a lot of questions. While at first it seemed like Joe (Penn Badgley) might have changed his murderous ways, the last few moments of Season 2 made it clear he hadn't fully reformed. Thankfully, it won't be long before fans get to see what kind of twists and turns are ahead, because You Season 3 will release on Netflix on October 15. Until then, get a look at the trailer, cast, theories, and photos from the next chapter in this dark tale.
Season 2 left off with Joe Goldberg and Love Quinn (Victoria Pedretti) getting settled into a new life in the suburbs. After learning Love was just as depraved as he was, Joe had every intention of leaving her. Once he found out she was pregnant, however, he decided to stay. Although one may assume a baby would help Joe straighten out, from the looks of the Season 3 trailer, he's still not ready to part ways with his deranged behavior. Joe continues to stalk and murder people, even in the suburbs with a new baby on board. Shocker. Love doesn't seem to be adjusting any better, either.
While there are plenty of mysteries still lingering — like the wellbeing of Joe and Love's child — viewers won't have too wait too long for answers as Netflix will release Season 3 on October 15.
Here's everything we know about You Season 3 so far:
This article was originally published on