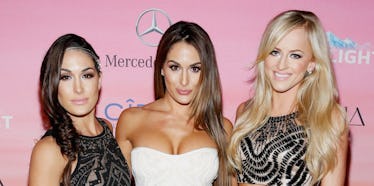 WWE Divas Hilariously Recreate Steve Harvey's Miss Universe Fail (Video)
Getty Images
Poor Steve Harvey. You make one mistake on national television, and you're the butt of every national joke.
Harvey's face has appeared on memes, GIFs and just about every form of media imaginable on the Internet today, following an epic slip-up at Sunday's Miss Universe pageant on ABC.
When Harvey inaccurately announced and crowned Miss Colombia as the winner, Miss Philippines looked on as her competitor soaked in the moment she herself was hoping to experience.
After what felt like hours of awkward silence, Harvey finally corrected his mistake and sadly de-crowned Miss Colombia in order to rightfully crown the winner, Miss Philippines.
Sheesh! The most highly-anticipated moment of the night, and it's shot to sh*t.
Anyway, when it comes to such an epic fail as this one, what more can do you but laugh?
The pro-wrestling, pro-acting superstars of the WWE found a way to recreate the very awkward moment with a couple of their biggest Total Divas, Nikki Bella and Paige, at tonight's Slammy Awards.
Who was really crowned WWE Diva of the Year? Check out the hilarious stunt in the video below to find out.
Oops. @RonKillings just had his own @IAmSteveHarvey moment at The #Slammy Awards! #DivaOfTheYear#RAWhttps://t.co/PVd2Ih74um — WWE (@WWE) December 22, 2015