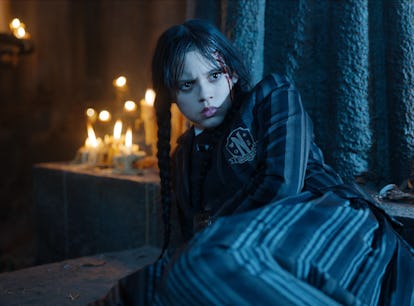 Here's Why Netflix Might Not Have Announced Wednesday Season 2 Yet
Netflix
At this point, the biggest mystery about Wednesday is why it hasn't been picked up for a second season yet. The dark dramedy debuted in November 2022 and quickly became one of Netflix's most-watched shows ever, inspiring inescapable TikTok trends and instant it-girl status for star Jenna Ortega. Despite this immense popularity, Netflix still hasn't confirmed whether the show will return for a second season a month and a half after Season 1 dropped, and fans are wondering if Wednesday will leave Netflix for Amazon's Prime Video going forward.
The speculation sprung from a Jan. 2 The Independent report, which indicated the rights to Wednesday are up in the air after Amazon acquired the show's production studio, MGM, earlier in 2022. Although Netflix may still strike a deal with Prime Video to retain the rights to Wednesday, it's not unheard of for a Netflix original series to leave the platform due to another streamer acquiring the show's rights. Similar instances have occurred several times in recent years, most notably when the whole Defenders universe of shows left Netflix for Disney+ in 2022.
However, the higher-ups at Netflix don't seem too worried about the possibility of losing Wednesday. In December, Netflix's head of U.S. and Canada scripted content Peter Friedlander told Variety he's "optimistic" about Wednesday's future, but said it was too early to officially renew the show just yet.
The series creators certainly have plans for more Wednesday. Showrunners Alfred Gough and Miles Millar have hinted at having three or four seasons in their minds, and the Season 1 finale cliffhanger definitely set up more mysteries for Wednesday and her new friends to explore.
Given the success of Wednesday's debut, it's hard to imagine Netflix would give away the rights to future seasons without a fight. But then again, the show's buzzy moment could also give Prime Video even more reason to wrestle it away from its streaming competitor. At least all this talk seems to confirm a second season sounds like a sure thing... fans just might have to watch it a bit differently than they did before.