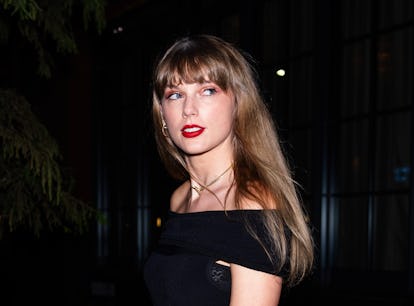 Taylor Is Rumored To Play This Superhero In An Upcoming Marvel Movie
Gotham/GC Images/Getty Images
Taylor Swift knows a thing or two about getting bejeweled, and now Marvel fans think she's ready to dazzle in a major superhero role. The superstar has actually been a pretty popular fan-cast for one particular Marvel role for years now, thanks to her resemblance to one of the most popular X-Men mutants. And Swift's recent outing with the stars and director of Deadpool 3 has reignited the rumors that she will be making the whole MCU shimmer as Dazzler.
It's no secret that Marvel superfans love to theorize which actors should bring which specific comic-book heroes to life, and ever since the last wave of X-Men movies in the 2010s, Swift's name has consistently been brought up as a top choice for Dazzler. There was even a pretty big theory back in 2016 that Swift would appear as the sparkling superhero in X-Men: Apocalypse, after Sophie Turner posted a photo of a Dazzler album and made a 1989 reference in the caption.
Swifties were left disappointed back then, but now the rumors have come back in full force. That's all thanks to an eyebrow-raising group hang. On Oct. 1, Swift was spotted at a Kansas City Chiefs game sitting next to Ryan Reynolds, Hugh Jackman, and Shawn Levy, who all just so happen to be working on Deadpool 3 at the moment. Levy even shared a pic of the group.
Deadpool 3 is the first of Reynolds' Deadpool movies that will officially be part of the Marvel Cinematic Universe, after Disney's acquisition of Fox was finalized in 2019. As such, it's expected to add tons of fan-favorite characters. The film is already breaking down universes by adding Jackman as Wolverine, as well as Jennifer Garner reprising her Daredevil role as Elektra. Could Dazzler make an appearance as well?
That's what Swifties are hoping the singer was chatting with Reynolds, Jackman, and Levy about in between football plays.
Dazzler has made a live-action appearance in a previous X-Men film, having been portrayed by Halston Sage briefly in Dark Phoenix, but many fans believe Swift is perfect for the part. Not only does Dazzler closely resemble Swift in appearance, the mutant hero is also a hugely successful pop star. Oh, and her real name is Alison — the same as Swift's middle name.
Deadpool 3 is currently slated to hit theaters on May 3, 2024, so Swifties will have to keep their eyes peeled for any clues until then.