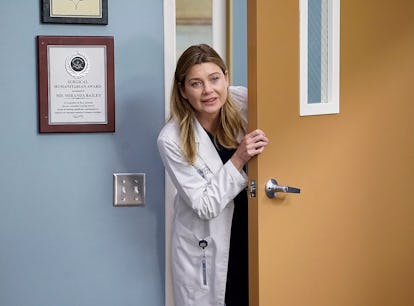 Ellen Pompeo Said Meredith May Very Likely Return To Grey's Next Season
"I will be making some appearances hopefully next year."
ABC
Meredith Grey hasn't said goodbye to Grey Sloan for good, and her return may be much sooner than fans expected. Although Ellen Pompeo stepped back from Grey's Anatomy in the middle of Season 19, with a big farewell episode as her character Meredith moved across the country, she recently confirmed that Mer will be back. To make the return even more exciting, Pompeo teased that Meredith will likely be back as early as Season 20, so fans won't have to go too long without their favorite medical marvel.
As Season 19 got underway back in 2022, Pompeo hit fans with a huge shocker: She would only be appearing in the first half of the season, then stepping back from the series to focus on other projects. Thankfully, she offered up some hope to the devastated fans, though. In her farewell message, she noted she'd "definitely be back to visit" in the future. And now she's getting more specific about when that visit will happen.
During her 2023 Variety "Actors on Actors" interview with her former costar Katherine Heigl, Pompeo shared that she's eyeing a big Grey's return in the next season. She explained that Meredith's storyline allows her to easily come back into the show whenever, and she's hoping she can find time next year to scrub back in.
"I'm not completely gone," Pompeo said. "I will be making some appearances hopefully next year, if I can find some time." She went on to say that she believes Mer's story isn't over yet. "It's not a complete goodbye. And I think we've got an interesting story to tell."
On top of potentially returning in front of the camera as Meredith, Pompeo is also still an executive producer on the upcoming Season 20 of Grey's Anatomy. ABC officially renewed the long-running medical drama for a landmark twentieth season in March 2023. As with past seasons, Season 20 will likely premiere this fall and air through the summer of 2024. And hopefully, it will include plenty of Meredith Grey.