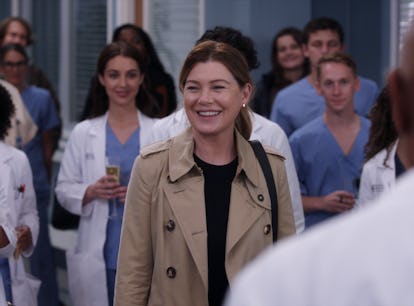 Grey's Fans Are Pissed As Hell About Meredith's "Underwhelming" Exit
ABC
After 19 seasons full of some of the most heartbreaking deaths and departures on television, Grey's Anatomy has become known for perfecting the farewell — except when it comes to its main character, it seems. The long-running medical drama said goodbye to its namesake Meredith Grey in Feb. 23's midseason premiere, but fans didn't get the emotional sendoff they were expecting. Instead, Meredith simply boarded a plane and flew off without much fanfare at all. The unexpectedly low-key departure didn't sit well with many fans, as the backlash over Meredith's exit started to take over social media.
Spoiler alert: This post discusses plot details from Grey's Anatomy Season 19, Episode 7. Viewers were ready for a tidal wave of emotions when they tuned into Season 19's midseason premiere. For months, the show had teased the episode as Meredith's big farewell to Grey Sloan, but strangely, it didn't hit fans as hard as they wanted it to. Perhaps it was because the exit isn't as permanent as others — Ellen Pompeo's eight-episode contract has fans convinced Mer will reappear in the season finale, and even Pompeo's farewell statement contained hints she could pop up in the future — but longtime viewers still felt let down by how subdued the episode felt.
Rather than going all-in on nostalgic montages or emotional cameos like Grey's normally does for huge moments, all Meredith got was a short toast from the Grey Sloan staff, a blunt dissolution of her situationship with Nick, and a flight to Boston. The end.
Fans were caught off guard by the cut-and-cry sendoff, complaining that the relatively unemotional goodbye for the show's main character felt "underwhelming" and "disrespectful."
Grey's superfans were so upset that they even crafted their own endings with fancams and TikToks, creating the music-filled montages that were missing from the episode.
There's still a chance for Meredith to get the emotional, cameo-packed farewell that fans want to see, though. It's heavily rumored that Meredith will be back for the Season 19 finale later this year. Hopefully, that will be the perfect opportunity to give Meredith the flowers she deserves in what may be her final appearance on Grey's Anatomy.