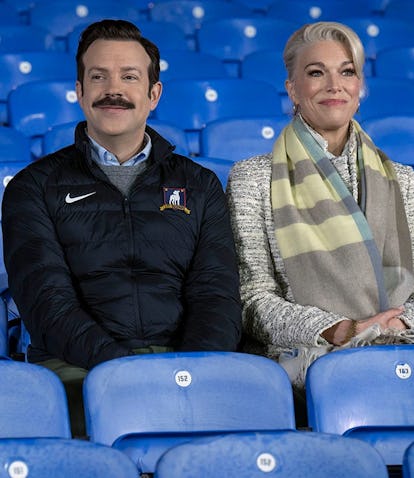 Ted Lasso Fans Are Picking Up Clues That The Show Isn't Actually Over Yet
Apple TV+
Jason Sudeikis had been clear from the start that Ted Lasso had an end goal in sight... but goals can be moved around a bit. At least, that's what hopeful fans have been thinking ever since the show's Season 3 finale aired. Sudeikis had always maintained that Ted Lasso was only meant to run for three seasons, and the climactic events of Season 3's last episode seemed to confirm that the show had indeed run its course. But strangely, nobody has given a firm answer as to whether that really was the series finale or not. In light of that, and a few other eyebrow-raising details, some fans think Ted Lasso Season 4 is still a possibility, or maybe a spinoff centering some other main characters.
While the Season 3 finale does seem to tie up the series well, there were also several moments that could have been taken as hints at the show continuing, or spinning off into another series. Most notably, Ted's final scene saw him waking up on a plane with an interesting book: How To Change Your Mind: The New Science Of Psychedelics. The title had some fans wondering if his decision to fly back to Kansas was actually some sort of dream or hallucination. The ending also introduced new storylines that could make for perfect spinoffs, such as Roy Kent taking over the team with Coach Beard and Nate at his side, and Rebecca and Keeley joining forces to introduce a women's team.
Apple TV+ even seemed to tease more Ted Lasso after the Season 3 finale aired. A week later, the network's account tweeted a photo of Roy, Beard, and Nate with the message, "Smells like potential."
The cast and creative team has also dropped some hints that there's still hope for more Ted Lasso beyond Season 3. Brendan Hunt, who produces the series along with starring as Beard, assured curious fans that there's still chances for the series to live on during a Reddit AMA: "Nothing has been ruled out, everything is possible."
Stars Hannah Waddingham and Phil Dunster echoed that sentiment at a June 11 FYC event for the show. "They've walked through a different door each of them," Waddingham told The Hollywood Reporter of the characters' endings. "Does that mean that the door is shut behind them? Who knows?" Dunster added that another season would only be done if everyone behind the show felt it was right: "If there was to be anything more — which I don't know, nobody knows if there will be — so long as it's done with integrity that's the thing that everybody cares about. No one wants more for the sake of it, there's enough TV around. And I know that Jason and [writer] Joe [Kelly] and Brendan and Bill Lawrence, they will only do it if they feel like it's the right thing."
So, for all the Ted Lasso fans still holding out hope for a return to the AFC Richmond pitch someday, there's one thing you can still do: Believe.