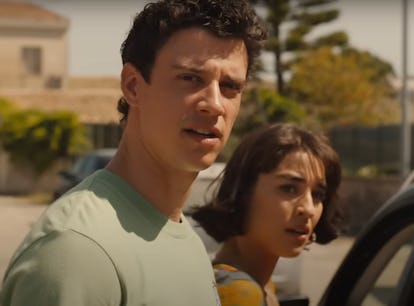 The White Lotus Stories Are Coming Together In The New Promo
My anxiety has never been higher.
HBO
Just like every good vacay, Season 2 of The White Lotus feels like it's coming to an end all too soon. The upside to this? With only two episodes left in the season, fans are finally going to get some answers soon, like what Cameron is up to, what's really going on with Tanya and Greg, and of course, who that body floating in the sea was. But first, the promo for The White Lotus Season 2, Episode 6 teases how all of Season 2's drama will reach its boiling point.
Spoiler alert: This post discusses plot details from The White Lotus Season 2, Episode 5. The latest episode ended with quite a few bombshells: Daphne casually hinted Cameron isn't the father of her son, Albie came to believe his relationship with Lucia is complicated by a man violently demanding money from her, and the biggest shocker of all, Tanya caught Quentin hooking up with his own nephew, Jack. But was that really incest, or has Quentin been lying about Jack's identity all this time? Thankfully, the answer to that question and all the others are coming soon, as the Episode 6 trailer promises to finally connect the dots.
There are a few things that stick out in the clip. First, Harper catches Ethan talking to Lucia and Mia in the resort hallway, which seemingly drives her to make a damning allegation to her partner: "We're not attracted to one another." Ouch. And it only becomes more painful when Cameron's handsy flirting with Harper reaches a new, very public degree. It all leads up to Ethan finally confronting Cameron after he suspects his former roommate tried something with Harper.
Albie is also in a tricky situation when he brings Lucia with him on his family trip, unaware that his father recently hired her for a night together. To make matters worse, Lucia tells Albie that the man demanding money from her has followed them on their trip.
Then there's the whole Jack mess. Tanya warns Portia to pump the breaks with him after what she witnessed in the previous episode, but Jack's charms seem to keep working on the lovestruck assistant.
Before the Sicilian vacation comes to an end, the second-to-last episode of The White Lotus Season 2 will serve up all the drama when it premieres Sunday, Dec. 4, at 9 p.m. ET on HBO and HBO Max.