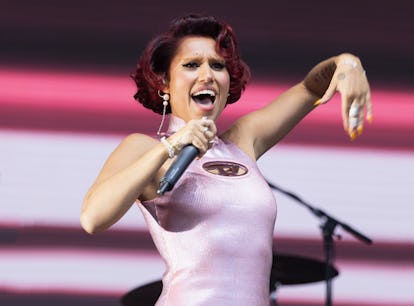 "Escapism" Is Just A Taste Of What RAYE Has Up Her Sleeve
Her debut studio album drops soon.
Jo Hale/Redferns/Getty Images
RAYE's reintroduction to the music scene has been a fascinating sight to see, especially for those who've followed her since her underground, hazy R&B days. Since becoming an independent artist in 2021, the singer has explored her creative freedom one punchy lyric at a time— and it's worked. Last year, she released "Escapism" featuring 070 Shake, which unexpectedly became a slow-burning bop on TikTok and went No. 1 on the U.K. charts.
The track oozes her brand of pop: Unflinching vocals, rich flows buttered with vulnerable lyrics, and a memorable hook. Luckily for fans, those components will be front row on her upcoming debut album, My 21st Century Blues.
The album, which drops on Feb. 3, will seemingly follow RAYE's experience as an artist over the last seven years. Before becoming independent, the singer was signed to music label Polydor. Between 2014 and 2020, she created the crux of her discography under this label. She released occasional hits with electronic pop giants David Guetta and Jax Jones; penned hits for artists like Mabel and Charli XCX; and dropped her 2020 EP Euphoric Sad Songs.
However, there was nothing euphoric about her behind-the-scenes relationship with Polydor.
In June 2021, RAYE claimed on Twitter that Polydor refused to release her debut despite signing a four-album deal with them. "I have been on a 4 ALBUM RECORD DEAL since 2014 !!! And haven't been allowed to put out one album," she wrote at the time. "ALL I CARE ABOUT is the music. Im sick of being slept on and I'm sick of being in pain about it this is not business to me this so personal."
RAYE continued, further alleging the label didn't prioritize her talent and that she was "done being a polite pop star." By that next month, she announced she cut ties with Polydor.
"Polydor and I have spoken and we have agreed to part ways," she posted on Twitter in July 2021. She also added that while Polydor is "an incredible infrastructure power house team," their artistic vision for her didn't align with her own goals as an artist. "I am very grateful to them for giving me a graceful smooth exit to start my next chapter as an artist," she wrote.
Sonically, RAYE's new music chapter has been refreshing to hear. She's no longer creatively stifled or trapped in commercial boundaries, but rather cloaked in fearless liberation. That unshackled bind appears on "Escapism" and her follow-up "The Thrill Is Gone." However, for me, those traits pulse with most vigor on her other two independent singles: "Hard Out Here" and "Black Mascara."
"Hard Out Here" is soaked in fiery verses, and sees RAYE confronting how her old label and the music industry have mistreated her. She potently glides on the track's gritty, hip-hop infused arrangements, which easily supports her lyrical blows.
"This LP's full of the sh*t I'm gonna say to you / See how I flow when I'm in pain, I'm gonna pray for you / Then I'ma aim for you, and it's a shame for you," she confidently croons.
Meanwhile, "Black Mascara" gives new meaning to 'tears in the club' sadness and narrates heartbreak over dance-pop synths. Of course, "The Thrill Is Gone" excites with those soul elements, but there's something about these two choices that gets my blood racing.
All four of these releases sound nothing like one other, yet they're all undeniable hits. There's a chance My 21st Century Blues might be a fusion of these sounds, and that speaks to her versatility as an artist. After years of losing ownership of her sound to her former label, one thing's for certain: My 21st Century Blues is sure to see RAYE at her most uncensored. Also, as a cherry topper, she's touring the new album this spring.