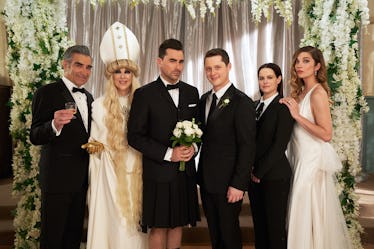 Here's What The Schitt's Creek Cast Is Up To In 2021
They're certainly keeping busy.
PopTV
When the Dan and Eugene Levy collaboration Schitt's Creek first started, no one involved in the project could predict it would become one of their career highlights. Lost in the upper echelons of the cable dial on PopTV in America, the CBC series initially only garnered a small audience. But the show has become one of the most historic TV comedies of all time, with six seasons and seven Emmy wins. But all good things must come to an end. With the series finale now having aired over a year ago, the cast has moved on. So, what is the Schitt's Creek cast doing now, and how can fans see more of their faves?
Even though Schitt's Creek turned many of its cast members into household names, most had careers long before the series began. Show creator and star Dan Levy (David Rose) made a name for himself as a comedian on MTV Canada. His father, Eugene Levy (Johnny Rose), with whom he collaborated in making the series, is marking 50 years as a working actor. Catherine O'Hara (Moira Rose) also has a long and storied career, with several roles in which she co-starred opposite Eugene. Of the Rose family, only Annie Murphy (Alexis Rose) was a semi-newcomer, having only done multiple CW series. (It says a lot how "only" is a relative term here.)
Their co-stars are no slouches either. Chris Elliot (Roland Schitt) has been on TV since the early 1980s. He started as a stand-up comedian on David Letterman's eponymous show before moving onto Get A Life in the 1990s, Everybody Loves Raymond in the aughts, and How I Met Your Mother in the early 20-teens. Emily Hampshire (Stevie Budd) did double duty during Schitt's Creek, starring in the Canadian comedy *and* the SyFy TV drama 12 Monkeys at the same time. Karen Robinson also worked on two shows at once, starring in The Frankie Drake Mysteries while she was recurring as Ronnie Lee.
Despite the show being his baby, Dan Levy also did side stints, including hosting two seasons of The Great Canadian Baking Show. (Note for fans of Netflix's Great British Baking Show, the Canadian version is def worth checking out.)
Unsurprisingly, all of these actors have booked work since the series ended. Let's run down what's come out and what's coming up:
All six seasons of Schitt's Creek are streaming on Netflix.
This article was originally published on