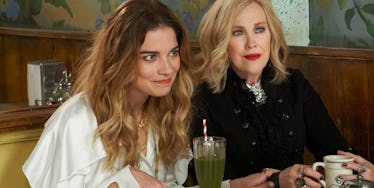 Here's What Annie Murphy Was Doing Before Her Big 'Schitt's Creek' Break
Pop TV
Schitt's Creek is a Cinderella story, a small-time Canadian comedy that was a little engine that could. The series avoided near cancelation in 2015 to go onto a historical sweep of the 2020 Emmys comedy category after its final season. Annie Murphy, who spent six seasons playing Alexis Rose on the series, now has the Supporting Actress Emmy to show for it. But most fans have no idea how close to quitting acting she came before nabbing that role. These TV shows Annie Murphy was in before Schitt's Creek are a reminder of how hard it is to ~make it~ as an actor.
Murphy recently opened up about the despair she felt in the weeks before landing Schitt's Creek. She's been in failed series, done minor guest work, and her one could-have-been break instead led to a three-year dry spell of no roles. In an interview on The Kelly Clarkson Show, she told the audience how she hit rock bottom:
I found myself crying in the Pacific Ocean, a very snotty cry. And the universe was like, 'Don't do this anymore. This is not for you.' But then, two days later, I got the audition for Schitt's Creek.
So what were Annie Murphy's roles before she so beautifully and hilariously embodied Alexis? Here's a rundown of her notable appearances: