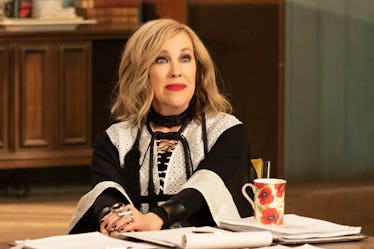 PSA: Catherine O'Hara Was A TV & Movie Star LONG Before 'Schitt's Creek'
Pop TV
Schitt's Creek made history in 2020 for a clean sweep of the Comedy category at the Emmys for the first time in television history. Part of that haul went to Catherine O'Hara for her role as matriarch Moira Rose. It was the first Emmy O'Hara won since 1982, a fact that might surprise fans that don't know her long and storied career. The 66-year-old actor has been working steadily in TV and film since the mid-1970s and has starred in major classic comedies. For all you Schitt's Creek fans out there who may not be up to speed on O'Hara's greatness, check out the below TV shows and movies starring Catherine O'Hara to get acquainted with just a few of her career highlights.
Fans may not know the Canadian-American actor has spent time working as a comedian, a writer, and a singer. In fact, her first Emmy was earned not for acting, but for Outstanding Writing in a Variety or Music Show (for her work on the Canadian sketch show SCTV Network).
Moreover, O'Hara's improv comedy ability has made her a valuable member in ensemble casts and an actor who ends up in long-term collaborations with both directors and other actors. For instance, it's notable that of the 10 recommendations on this list, three include her Schitt's Creek co-star Eugene Levy, three are for director Tim Burton, and two are for director Christopher Guest.
Check 'em out: