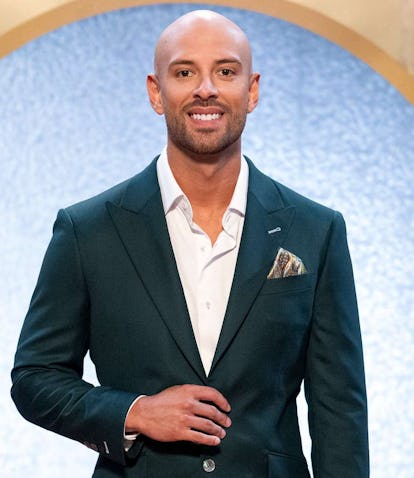 Izzy From Love Is Blind Finally Revealed His Exact Credit Score
An actual number! Finally!
Netflix
Love may be blind, but the IRS sure isn't. Finances became a major sticking point on Season 5 of Love Is Blind. After Stacy learned her fiancé Izzy had bad credit, she felt blindsided and ultimately decided not to marry him. The situation was left a bit murky, and when host Nick Lachey asked Izzy about his credit score at the reunion, he didn't give a clear answer. But now, Izzy has finally revealed the exact number that caused Stacy to freak out.
Izzy got into the specifics about his financial situation during the Oct. 19 episode of Nick Viall's The Viall Files podcast. He revealed that his credit score was 580 while filming Love Is Blind. 580 is generally considered to be a poor, but not completely terrible, FICO score.
The credit scoring system ranges from 300 (the worst possible score) to 850 (the best possible), and is meant to indicate whether an individual has had past struggles with repaying loans or going into debt. Izzy went on to say that his 580 credit score was a result of him not paying off some credit cards when he was younger. "I got [credit] cards when I was 18 [or] 19, f*cked it up and my credit was bad," he said.
Seeing how much the revelation shook Stacy, Izzy said he hired a financial adviser before the wedding day to try to get serious about fixing his money problems. He confirmed his credit score has improved since the show, but didn't disclose the new number.
But the credit score wasn't Stacy's only issue with Izzy's finances. She previously told Elite Daily she was uncomfortable learning Izzy's job contracted him through a 1099 form — which is used for freelancers and impermanent workers — rather than a typical salaried W-2. Izzy confirmed these tax forms were a big deal to Stacy.
"I told her I was on a 1099 because I switched over and I was doing insurance at the time, and she was like, 'You're on a 1099 instead of a W-2?'" Izzy recalled. She told him she was nervous about the "lack of stability" that instilled in her.
After the big financial conversation, Izzy revealed that Stacy flat-out told him she was going to turn him down at the altar.
"She told me two days before [the wedding]," Izzy said. "After the finance conversation, I thought, 'This isn't looking good.' … [A couple days later], it's great and we're lying in bed and laughing and it led to the point of her saying, 'Oh, I'm not going to say yes.' And I was just like, 'What the f*ck?' She was just like, 'I don't feel like I can marry you right now, like, it's too soon.' And I was f*cking destroyed."