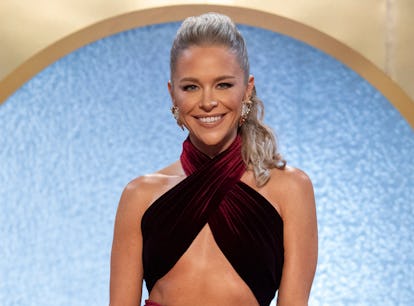 Stacy Stands By Everything She Said On Love Is Blind
"I do not expect a man to support me, but I do not want to be supporting a man."
From paper plate drama to first-class quotes, Stacy and Izzy's tumultuous relationship on Love Is Blind Season 5 sparked a ton of discussion around the financial expectations engaged couples should have for their partner. Was Stacy asking for too much when she insisted Izzy pay for half of her house, or were Izzy's paper plates and plastic cutlery the true red flag all along? The money issues had viewers split on which side to take, but despite some fans calling her "spoiled" or "entitled," Stacy still stands by everything she said on Love Is Blind.
Throughout her engagement to Izzy, Stacy held true to her father's pithy maxim: "Love is blind, I get that, but sometimes love wants to fly first class." Adamant about not settling for something she didn't feel she deserved, Stacy grilled Izzy about his financial plans, and was shaken when she found out he had bad credit.
"I stand by everything that I said," Stacy tells Elite Daily, revealing an enlightening therapy session gave her a lot of clarity about her financial concerns. "I was asking my therapist, 'Are these too high of standards? Are these unrealistic standards? Does it make me shallow to want a man to have these things?' And she was like, 'No, those are your standards. They are like boundaries, and you don't have to be a brat about it, but you have to know what that is. Because if that equals happiness, if you compromise it, you're probably always going to resent that person.'"
She goes on to lay out a core issue she felt in her relationship with Izzy. "I don't ever want to feel like I have to support a man," Stacy says. "I do not expect a man to support me, but I do not want to be supporting a man."
She recalls how Izzy was unable to give her real answers to the questions she had about his finances.
"You've got to have something that you're bringing to the table, and I just felt like it was very unclear what he was bringing to the table," Stacy says. "That's why I kept drilling it home what my expectations were, so he could answer. I was just trying to be like, 'This is what I want. Do you have it?' Because I wasn't getting straight answers."