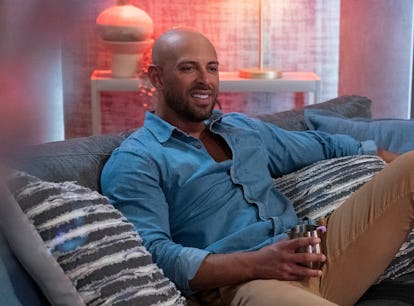 Izzy From Love Is Blind's New GF Is Not The Girl From Those TMZ Pics
"She's just a better match for me."
Netflix
Spoiler alert: This post discusses the Love Is Blind Season 5 finale and reunion.
Izzy's love life may have been a bit of a mess on Love Is Blind (and even for a little while afterward), but he seems to have figured it out now. At the Season 5 reunion, he confirmed he's dating someone new after his engagement to Stacy dissolved. That didn't come as too much of a shock to fans, considering TMZ posted photos of Izzy looking very cozy with a woman who wasn't Stacy days before the finale. But that woman is not actually Izzy's girlfriend, he explains to Elite Daily.
Izzy opened up about his new relationship at the Love Is Blind reunion, but his girlfriend isn't the person most people assumed she was. A little over a week before the finale, TMZ reported Izzy was dating a mystery woman, whom he was seen going to a tattoo parlor in Los Angeles with. That isn't the case, though.
"I was in LA with some friends and just ended up being next to a woman," Izzy says, confirming the woman in the photos is just a friend.
He continues by sharing that his actual girlfriend has been super supportive and kept him sane during all the Love Is Blind drama. Compared to his ex Stacy, Izzy says his new partner is more go-with-the-flow. "There's definitely differences between her and Stacy," Izzy says. "She's very laid-back, so we're more compatible. At the end of the day, she's just a better match for me."
Izzy's current relationship began after an unexpected hookup with another Love Is Blind cast member after filming the season. At the reunion, he revealed that he and Johnie reconnected and even kissed after his breakup with Stacy. Although it didn't turn into anything more, Izzy says he's still friends with Johnie.
"I wouldn't say we're extremely close, but we're good friends," Izzy says of Johnie. "We just check up on each other, check in on our mental health, and things like that."
Izzy also reconnected with Stacy after their breakup, revealing that he talks to her every day now. "We're just always going to have that bond," Izzy says of his friendship with Stacy. "We help each other out and lift each other's spirits. And it doesn't really get awkward, because we've already moved past everything, and we know we're not going to be anything more than just friends."